Pearl Jam, Great Woods, September 15, 1998
It's been a while since Pearl Jam has played these parts and much has changed with the band. Their first of two sold out shows at Greatwoods was full of good vibes, tour stories, and some damn fine music. Gone was the mosh pit, the flannel shirts and the depressing attitude. Believe it or not, Eddie Vedder was smiling.

It was election day in New England. Both Rhode Island and Massachussettes voters were headed to the polls to lay down their vote. I missed voting for the first time in years since I had to work all day and head straight over to the PJ show.

I might not have gotten to cast my legal vote, but two frat guys in the parking lot asked me which one of them looked closest to 21, so that was close enough.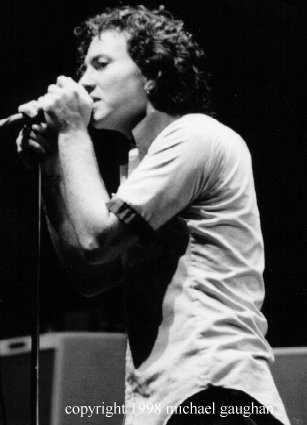 Pearl Jam hasn't been around here for a few years now, so people were in high spirits. Both PJ Greatwoods shows sold out in like a half second, so tickets were going for a premium in the lot. I saw some guy selling inside seats for $100.00, but the normal price for a ticket seemed to be 60-70 bucks. There were plenty of cops in the parking lot busting up the public drinking, but the scalper cops stuck close to the ticket booth. Hint- if you're going to scalp tickets at Greatwoods I'd suggest you make sure the person you're selling them to doesn't have a walkie-talkie in his or her back pocket.
Things have changed with Pearl Jam. Going to see them this year was like going to see a well, a classic rock concert. Most of the people looked over 18, and there were way too many tie-died t-shirts walking around looking stoned. In fact there was quite a bit of smoking going on both inside and outside which surprised me.
Anyway, this show was a real exercise in patience for me. The record company was cool enough to let me have a photo pass, but they forgot to mention that Pearl Jam doesn't exactly welcome journalists. So my schedule for the show was this- 7:15 I got escorted in to take photos of Ben Harper and escorted out as soon as I was done. At 8:15 we got escorted in to take photos of Pearl Jam. The PJ folks explained that Pearl Jam respects their fans above all else so we were secondary. We would not be allowed up front to take pictures and would instead take them from the aisles. We were told that if we got in peoples way we'd be escorted out, if we used a flash same thing. Essentially they made it clear that we weren't necessary and could be escorted out at anytime. While it sucked a bit not being given the two star treatment of getting up front and all that I gotta say that PJ does put the fans first.
So I shot my stuff and had to run the camera back to my car. I had a fan club ticket so when I returned I got to go right back to a nice seat about 15 rows back. People in my row were checking tickets them selves, but they also kept my seat clear and free of crashers so that was cool. For the first time in a while I wasn't the only person taking a set list, so I gave up. I figured the Pearl Jam website would have it posted by the time I drove home, so why bother.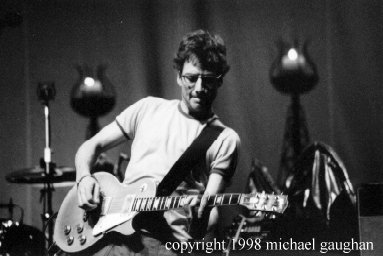 Eddie didn't talk between songs at all until he introduced Mike McCready's excellent solo during "Even Flow." McCready was excellent all night, even if Eddie didn't feel like talking. Eventually Eddie did take off his shirt to reveal an Exploited t-shirt, but it was hard to tell if he was a sincere fan or just feeling that way by coincidence.
Of course the fans went nuts for the whole show. They did a bunch of songs from Ten, including "Jeremy," and "Black" and went through two sets and an encore. The stage had some big candle holders in the back and there might have been a rug for the boys, but that was it. During a sing along "Wishlist" a big disco ball came down and did its thing, but it seemed out of place.
I had a great time drinking and singing along with all the songs I knew, so I really can't complain. What bugs me are these Grateful Dead flashbacks I kept having. Like the whole two sets and an encore- throw in a drums/ space and it's the Dead. During "Jeremy" Eddie did a Bob Weir hand thing like he used to do for "Throwing Stones." All the tape recorders and ser list freaks- let them have soundboard access and shotgun mic's and it's the Dead.
Musically its not the same, but the environment was kinda close. Pearl Jam was excellent. They really ripped it up pretty nice. If you haven't checked it out go to Sony Records music site and you can find all sorts of links. Please don't steal these photos either since I had to sign a contract and everything. Thanks.
Set List
Sometimes Corduroy
Hail Hail
Animal
Given To Fly
Daughter
Immortality
Rearviewmirror
Crazy Mary/Wishlist Medley
Jeremy
EvenFlow
Nothingman
Brain of J
In Hiding
Alive
1st Encore
Small Town
Not For You
Last Exit
Do The Evolution
Black
Fuckin' Up

2nd Encore
Yellow Ledbetter