Beastie Boys Money Mark Worcester Centrum August 25, 1998
A long time ago I lived in a dorm that was mostly Deadheads. The school kicked some of them out for dealing pot or something and a bunch of hockey dudes got moved in. These new guys were into the Beastie Boys. All day long it was "Hey Ladies" this and that, and fighting for your right to lousy rap, pretty much the last thing we wanted.
Anyway after a few months we made a deal- they would eat a bunch of acid and go the see the Grateful Dead and we would get drunk and go see the Beastie Boys. Of course the Deadheads won, you couldn't beat easy access to drugs. But somehow I ended up in the Worcester Centrum watching these three knucklehead NY boys run around spraying Budweiser and singing to the go-go dancer caged bitches. At the end this huge dick in a box was inflated.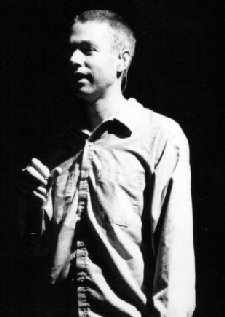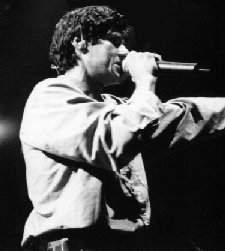 The Beastie Boys have come a long way I admit. They rule the white-boy rap scene, and even encourage the kids to respect women now. Try as they might to get away from their party past, it's still what draws in the kids.

Tickets for this one were going for $100+ dollars in the parking lot and doing a good business. I went alone to this show, mostly because I didn't want anybody to see me do my sucker MC dance. Turns out everybody at a Beastie Boys show is some kind of MC- you just shout it if you know it, and dance if you don't.
Money Mark did 45 minutes of cool soul and groove, and while its nice to see another Grand Royal artist, the Beasties were what everybody waited for. Money Mark was still on stage breaking his shit down when the roar went up and the barricades were rushed in a mad dash for the floor.

Security was kinda shocked and could do nothing as a few thousand more kids hit the pit, which since the boys played "in the round" was huge and surrounded the stage. I tell ya, I was up by the stage when it happened and it was freaky, all of a sudden nobody was in a seat and the floor was a huge surf pit.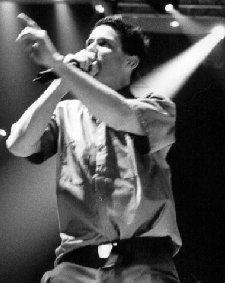 | | |
| --- | --- |
| | The Boys hit the stage after letting Mix Master Mike (their DJ turntable guy) take Rush's "Tom Sawyer" and slice it up on both sides. He ran one and cut the other, then mixed them both- it was quite impressive. |
The Boys came out and gave Worcester one hour and 45 minutes of nasal, sing along hip-hop and some speed punk for good measure. They don't do "Fight for your right" anymore, but that's what we had to do to get tickets, so its assumed.
Instead of the penis and beer show we got some high energy MC'ing and some dope dancing. The Boys ripped through almost 30 songs covering most of their tunes, and even took up instruments for some jams and those punk songs.
There was plenty of stuff from the new CD played, but you had to wait until the encore until they did "Interglatic." By then it didn't matter, the boys had whooped it up and rocked it down. "Sabotage" finished the night off, and by then the inside of the Centrum was sweaty, but smiling. The mix wasn't the best, but it didn't matter. Half the fun of the show is busting a move and laying down a rhyme, not hearing every line.