Manson Comes to Masshole Town for Book Signing Manson Comes to Masshole Town for Book Signing, February 17, 1998, Newbury Comics, Burlington, MA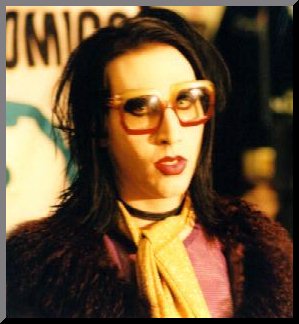 "Shock-rocker" turned author, Marilyn Manson, shows that the beautiful people can exist in daylight at his only New England appearance to push his new book at Newbury Comics in Burlington, Mass. Approximately 800 eager fans, most of whom were conveniently on vacation, lined up outside the store to meet America's most controversial rock star. "By coincidence" the store reported that Manson sold and signed exactly 666 books.
I have no idea why this book signing tour had Marilyn go to Burlington, Mass to sign
his books, maybe they were trying to make it easy for the suburban 700 Club families to commute over and protest, but at this appearance it worked out well being in some freaky strip mall with 500 Spooky Kids in face paint.
I gotta admit I'm no better than those slasher chicks following Mr. Manson around- I took the whole day off work to go wait in line, and I've done the same every other time he appears in New England. Its at the point where I've got friends I see at shows, or people I've met before- mad its like touring with the Grateful Dead, only this time the name really fits. Gotta say its starting to freak me out, but I really have a blast covering Manson and his shows. He's never let me down as far as I can tell.
So, It's like 8 am and I'm there- some kids are of course already in line, but not many- we are told wrist bracelets will be handed out at 10:00, so I go get a large tea and a newspaper at the place across the parking lot. While waiting in line I hang with some people- the first girl who was there was Tammy King who arrived at 3:00am. She spent the night "thinking of what to say to 'him' for that 30 seconds."
When I got back in line closer to the magic hour of wrist bracelet handing out I was right behind another corporate dude, only he hadn't taken the day, instead he faked a doctors appointment and was going to get a bracelet and come back later. He was wearing a suit and tie, so he looked way out of place. There were a few mommies and daddies around, but kids had the day off 'cause it was winter break.
I got number 63 and was told to come back at 3:30- 4:00 to line up. I'd arranged for a photo pass, and the folks at Newbury Comics were wicked cool about checking me off and making sure things were cool. I had like hours to kill so I went to the mall to see what was up.
The Burlington Mall pretty much sucks, no good magazines to be found, and nothing really worth mentioning to do. Movie theatres and the Newbury Comics and Tower Records are at other strip mall deals, so this mall is the Gap Crap and that deal. I got some overpriced food at the food court and another newspaper and sat down to watch security try to figure out where all these painted freaks were coming from. It was pretty funny- little by little more face painted, fishnet wearing, Spooky Kids started showing up and this old security dude was just standing on the overpass watching them bug eyed and freaked out. He left and I never saw him again, but it was fun for a few moments.
I talked with some kids and we compared gifts we'd brought for Manson. They had roses- black and red, drawings they'd done, and stuff they wanted him to sign. I had issues of Whatever with Manson stories and some 8x10 photos I'd taken of him in concert. I gave them flyers for the website and walked the mall leaving flyers everyplace I could.
I left the mall around noon and ended up getting a book at Tower Records and hanging out in my car until the line up. Kids trickled in and out all day, a good mix of face paint and heavy metal hairspray. It was pretty cold out, so I had to keep getting more hot tea to drink and that made me piss a lot, so I spent most of the rest of the time drinking and peeing, drinking and peeing, yippee.
By 4:00 my butt was tired and I was sick of sitting in my car. I went and hung out in the line up, checking out the scene. Newbury Comics was running a tight ship, but they had shit under control. All the Spooky Kids were just hanging out and the only crime being committed was under age smoking. At 4:30 I got to go inside due to my photo access, which was really cool. They closed the store and it was me, the employees, and some record label people hanging out in the warm store waiting for Manson to arrive. The Security dudes were the same guys from Greatwoods and Fitchburg, so I knew two of them, and things went pretty smooth.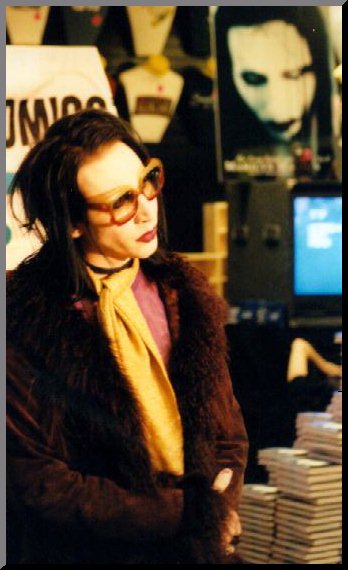 The only scandal I can offer is really lame- the Newbury Comics lady in charge was walking around for like 5 minutes with a big makeup mirror for Manson to check himself in, but the bathroom didn't have anyplace to put it, and she just couldn't decide. When he did arrive they had to like shuffle him into the bathroom for a private moment, then after he came out he stood for 45 seconds while me, the guy from Channel 4 Boston, and a photographer from the Globe took his picture. He said nothing, and we did our thing quick.

He was definitely more Marilyn than Manson. He had a sparkly outfit on and heavy pink make-up. He wasn't scary, but he seemed apathetic towards us journalists.

I can understand that, so I didn't care. He gave us our time, that was cool.
Luckily, I was there nice and early, so I had gotten my "gifts" past security and got into line to get my book signed with contraband stuff. All gifts were to be left at the door and they were strict as hell. No cameras, no nothing- everybody got a quick frisk too, I think.
Anyway they were letting people in 50 at a time and I was 63, so I just got into the back of the line and waited. There were all sorts of kids in a tizzy, as they left with their books it was great to see goth kids smiling ear to ear clutching their book and giggling from the experience.
When my turn came I was announced, "One book." And I moved forward while Manson was handed my book. After he signed it I gave him the photos and we had a quick conversation.
"Where did you get these?" he asked.
"I took them, I run a zine," I said and gave him the envelope with copies and some more photos.
"Thanks," he said and stuck out his hand.
We shook hands and I walked away. As I left some girl came up and wanted to look at my hand because 'he' shook it. She thought she was seeing make-up residue, but I think it was just my ratty discoloration from freezing in the car on and off all day.
It was definitely cool to shake Manson's hand and give him some photos. It wasn't the greatest moment of my life, and I feel a little stupid because of the adoration the Spooky Kids seem to have, but what the fuck, he's famous, I take his photo, why not give him a nice copy as a thanks for letting me in to his shows free for 4 years?
Check some other page for our Review of his book. The Boston globe reported that 666 books were signed by, "pure coincidence." I didn't hear of any arrests, and no protestors showed up, so it was fairly uneventful for gossip mongers. Manson came, he signed, he waived, he left. Sorry 700 Club.