Foo Fighters, Rocket From The Crypt at Lupo's, 5.13.98
Footastic, foorific, I don't know how to describe the Foo Fighters live shows. The positive energy that seems to follow Dave Grohl around these days is infectious. This tour is a 'payback' kind of thing, where the Foo's are re-visiting small clubs to thank all the folks who have been there from the beginning. It is really strange considering where Mr. Grohl comes from (what was that band??), but if he wants to say thanks for all the memories, well I'm there.
Not far into the first song Grohl was waving "hello" to familiar faces and even stopping to scream "Hey I remember you," to a crowd surfer. Throughout the set he smiled, waved, and practiced his stage banter.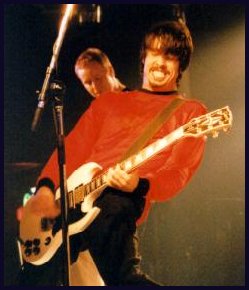 Dave's been improving his between song words of wisdom, and this time he even went for the "Last night we played Boston and it sucked compared to Providence," routine that killed. True, nobody seemed to be having a bad time, even the bouncers up front didn't have it too bad. I didn't see any fights, or even any unnecessary roughness in the pit.
Anyway, there isn't a new Foo Fighters album out or anything, so their set stuck to the familiar.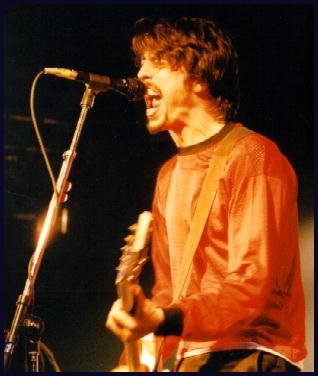 According to the list on the stage it went like this- "My Hero," "My Poor Brain," "Monkey Wrench," "Alone Easy Target," "For all you Cows," "See You," "Gas Chamber," "Damn You, Damn Everyone," "This is a Call," "Up in Arms," "Weanie Beanie," "Hey JP," "Everlong," "New Way Home," "I'll Stick Around."Dave did announce "Damn You, Damn Everyone" as "something they were going to work on for their new CD," but it sounded pretty finished to me. It doesn't stray too far from the grunge rock that is Foo, but who needs originality with everything. As I said, everybody really seemed to be having a pretty good time.
Lupo's was packed from wall to wall but the pit didn't take over, and there was plenty of space towards the back if you like it that way. I hung around the perimeter most of the night because of the camera, but I still had a blast.
Overall you've got to give the Foo Fighters the big thumbs up. Every time that I've seen them (like 4 times now) they put on a great energy show. Dave thrashes and bops around while the band sticks to the shadows.
I don't think I've ever heard a Foo other than Dave speak at a show, but who cares. Keep an eye out for their next release, Dave seemed to allude to a Christmas release, but I don't have any idea if that's true or not.