Candye Kane, Rhythm & Roots Festival, Escoheag and the Stepping Stone Ranch, the Swinging Armadillos, Geno Delfose and the French Rockin' Boogie, and many others. September 4, 5, & 6th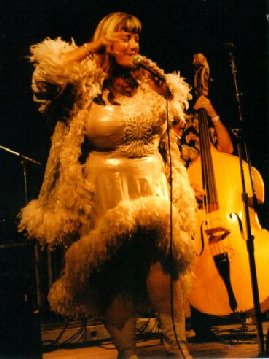 I got a free Candye Kane CD a few months back from Sire Records, and even though I still wasn't fully behind the swing revival I really liked it. Candye has a great voice, and her new CD "Swango" has her doing standards like "Dream a Little Dream of Me."
Ok, so she's also a 200 pound ex-stripper and Juggs Model with a huge set of knockers. She's retired from the stripping, but how could I say no to checking this kind of show out? Who says Marilyn Manson and Rob Zombie have a lock on visuals and exotic personas.
Candye was closing the first night of this festival, so I headed out right after work to find the Stepping Stone Ranch.
None of my friends had ever heard of the place, but they've hosted a festival of two for the past 19 years. Oh well. Nobody would go with me to this shindig, so again it was me and the Honda. I did my best to get Lizzy to go with me so I could bill this story as "Lizzy Love interviews Candye Kane," but she wouldn't bite.
As I got closer to the festival I noticed a large amount of Campers, trucks, and cars with Cajun stickers and exactly the kind of people you'd expect to see camping on Labor Day- America at its finest. I puttered the last few miles to the festival behind a truck pulling a pop up camper that had the super cab with three kids and a wife.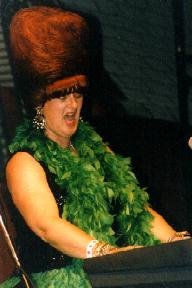 I parked in the dirt lot with all the other wimps who were only on a day pass, and went to find my pass. They didn't have any kind of official list or anything up front- they just told me to head over to the performers camping and parking lot and see if I could find Candye. I got an all access wrist bracelet from a very nice lady and headed on in.

Candye hadn't arrived yet so I went to watch some of the other bands. I was kinda scared of what might be going on since I'd heard some country band jabbering on about how St. Peter checks your set list before admitting you through the Pearly Gates, but they went away quick and some goofy guys took the stage and did funny country songs like "Jesus likes Me, but You're Gonna Fry."
They were called Austin Lounge Lizards, and they weren't that bad. Sure it was regular Country, but sometimes ya gotta mix it up or you might get narrow minded.
The Stepping Stone Ranch was quite a site. They had a huge area fenced in with tons of space to sit. About 1,000 people were lounging in front of the stage, while others danced on the wooden dance floor set up under the shade of some big trees. Along the back there was about 20 food vendors selling BBQ, Cajun food, Asian stuff, beer, fried dough, vegetarian pockets, and everything else you could imagine.
I had some ribs, mashed potatoes, and a coke for like 5 bucks. The BBQ guy was hootin and hollering with the band and gave me extra portions since I "looked like I could use some." I gotta say I felt like I stepped back forty years, but it felt great. The moon was coming up big and nobody even looked like they had a care in the world. There were plenty of Wrangler jeans, big beards, and cowboy shirts around, and the dance floor was packed. If I had a tent I would have stayed the whole weekend.
I ate my food on the grass watching the Austin Lounge Lizards and moved up front to check out Geno Delfose and the French Rockin Boogie. Geno and the boys do it Cajun style and it was cool. Chicks were shouting for him to turn around so they could check out his ass, and the band even included a guy in washboard.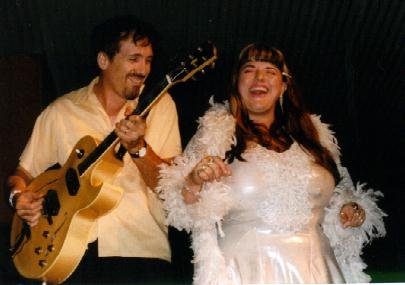 Geno played a variety of accordions and they snag mostly in French, or whatever they call it in Louisiana. People really rocked out for these dudes. The dance floor looked like a cartoon of people doing the bee boppin swing thing. Ever see the one where the Three Little Pigs are playing a jumping jive and the wolf wants to sit in on horn? That kind of dance floor- everybody just popped up and started boppin it up. Geno played well past 11:00 pm, so it wasn't until close to midnight when Candye took the stage.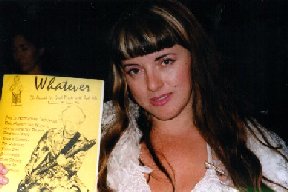 I was psyched to see what was in store, especially since a bunch of dudes all moved close and were practically salivating on them selves. To start off the set Sue "Beehive" Parker did a jamming piano number. ( Sue really has a red beehive hairdo that rises a full two to three feet off her head.) The rest of the band joined her for some full on swing before they introduced Candye.
What can I say? She started the set with "200 Pounds of Fun," and it went from there. She was big, but she was also proud. Throughout the set she told stories of being a big girl, loving yourself for what you are, and taking what comes in stride. Her voice was really powerful when she wanted it to be, and she could also do the stripper squeal if needed. She did "Great Big Woman," "These Boots Are Made for Walking," "Just Because," "Swango," and "All You Can Eat- Eat it All Night Long." Her band was totally on, and rocked the shit out of the Ranch until 12:30am.
Even the die-hard tight ass looking people had to boogie with Candye, how could you not? At one point she tried to play the piano with her 52-inch boobs, but had to stop because she had two bottles of hot sauce she'd gotten from the Crab Bros. Up top. First thing she did when she arrived was eat her fill of them crabs, and she gave the boys a good plug before doing that solo.
The line of guys and girls ready to buy stuff was pretty big, and it was kind of late, so I got her to do a "Whatever Magazine Shameless Promo" shot and an autograph. I would have liked to do the interview, but she was already getting pissed at her husband for not having enough singles, so I thought it was best to get home.
I highly suggest any festival the Stepping Stone throws, especially if they all have that awesome food and good weather. Candye helped keep my interest, but next year I'm packing the wife up and getting in the camper to eat Cajun food and ribs the whole weekend.