Nashville Pussy
Reviewing concerts can get tedious. However once and a while you come across a band that really makes going out worthwhile. Nashville Pussy is the kind of band that can restore your faith in the holy trinity- sex, drugs and rock & roll. Ok, so I didn't see any drugs, but I'm sure if there were any to be had they would have been eaten up quick.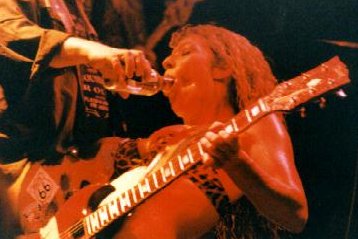 What I did see was some awesome high-energy rock and roll and some well, fine Nashville pussy. The band has a new album out on Amphetamine Reptile called "Let them Eat Pussy," and baby does it crank. Its kind of a Motorhead-meets-Nugent-playing-AC/DC-in-his-monster-truck-on-the-highway to-Hell thang- fast, sweaty, and not for church ears.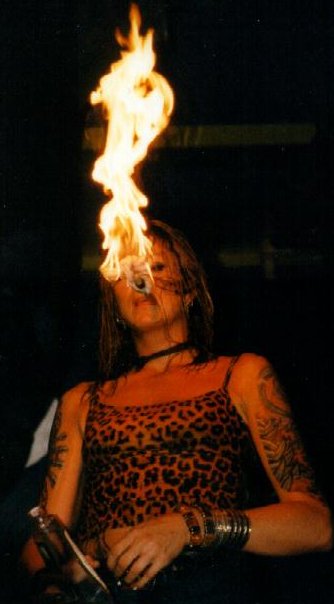 I went to the Met Café with every intention of taking good notes and writing a fine feature on this much talked about band, but the power of rock and roll was too much and I became a participant instead of a neutral bystander geek with a notebook.

The Met had a good mix of rockers, bikers, babes, and curious folks, but I ended up hanging out with some huge dude who looked like Hoss Cartright gone insane. He invited me to share in a beer with him and from then on it was all down hill for my note taking ability. (Ok, so he turned to me and said, "Why the fuck aren't you drinking," and I couldn't come up with an answer that seemed cool enough so I started.) A bunch of beers and a few shots of tequila later and Nashville Pussy came out.
I had read internet stories about what supposedly goes on at a NP show, and for once they were all true. I don't have a set list, but most of the songs were from "Let Them Eat Pussy."
Now just 'cause the girls are pretty and there's some of the finest fire breathing since Kiss, don't mean the band doesn't kick some ass. Cartwright used to front Nine-Pound Hammer, and has a forceful growl that's been honed for years on road food, beer, and fucking ripping rock. His wife plays like she's on fire and really is excellent all around.
So, here are my notes word for word:
"Drinking with Hoss....drinking with Hoss.....Pussy time! Met is really packed now....Hoss and I fight for space up front.....Guitar player ditches her tank top and plays in a leopard-print bra...."Go Motherfucker Go" loud, fast, cool as shit.....Bassist is like 7 feet tall and spits fire from her mouth....drinking and dancing is the order of the day!!! (Something I can't make out), YEA!....pour beer on guitar chick and let boys lick it off!...ps she plays the shit out of her guitar AC/DC & Nugent licks all over! That's it, sorry. The only other thing I can remember is this: some other guy saw me trying to take pictures from like mid mosh pit and thrust me forward to the front yelling "You gotta get a photo of this babe!" Of course I took a few, and I'll put the best one of Ms. Ryter up for you all to check out.