The X-Games Concert
Goldfinger, Kilgore Smudge, Bone Shelter, and Chubby

Well the ESPN Extreme Games - now X-Games came to Providence again this year, and once again it turned out that the non-sanctioned games were more fun than the sanctioned ones. Case in point was the "X-Games Concert." Sponsored by Request Magazine, and headlined by the awesome Goldfinger, you would think that the event would be truly something extremely cool. However having to watch bands like "Chubby" and "Bone Shelter" was just X-tremely lame.
Chubby is a Boston band I think, playing some pretty generic rock stuff. Their front man - Chubby I guess - is black, which got some goon yelling "Play something Hootie." From that point on Mr. Chubby was pissed and stuck trying to overcome his race. He couldn't let it go, so he kept talking about it, and it made their set suck.
Kilgore Smudge on the other hand, rocked Providence. All the kids love the Smudge, and they were pretty good. Since I've never seen them I don't know what they played, but it was interesting. Fans will be glad to know that the rumors about them breaking up are false, and they hope to have a 7 inch out soon.

Then came Request Magazine's band - Bone Shelter - or Bone Dry as I prefer it. Loud, bleached blonde, and rather boring. People didn't go for it and it showed. Most went to the bar or the bathroom. There was actually a line at the snack shack and everything. I had some beers and chatted up some X-tremely young girls.
| | | |
| --- | --- | --- |
| Don't worry though, when Goldfinger finally showed it turned out to be the best of a week's worth of extreme events. They turned a long night of semi-talent into the first ever "X-Games Mosh-a-thon." | | |
About three songs into their set "Dangerous," Darrin Pfeiffer got pissed about watching security throw out kids who surfed to the stage and jumped back off it. (Since the Strand didn't have the barricade up this was an easy thing to do.) Anyway Darrin says, "Hey Security- Why don't you fuckers go home - `cause throwing kids out for stage diving sucks."
From this point on, it was a free for all up front. Kids hit the stage, did the obligatory shaking around and jumped back onto the pit. It was an awesome event. Nobody did anything stupid like grab one of the band members while they were playing, they just did a little dance and jumped. Points were awarded for goofiness, stage stomping ability, and height of jump. Winners didn't go to the hospital.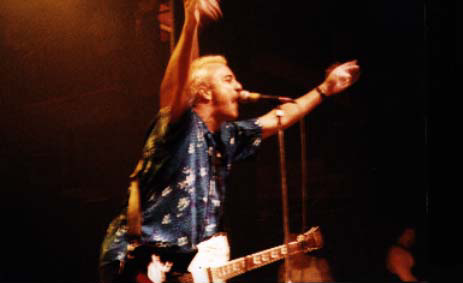 For the last song Singer John Feldmann invited "anybody who thinks they knows the words" up on stage to help him sing. Of course about 150 of us hit the stage. Everybody was pretty respectful of the band's stuff- but mostly `cause its hard to get out the door with an amp that's still plugged in. Somebody picked Feldmann up and he surfed on the stage - another X-Games first. After Johnny sang the last song while crowed surfing on the stage, not in the pit - we all stood there for a few seconds looking at the pit look at us, then went and all had an X-treme beverage.
I've petitioned the X-Games sponsor ESPN to give Mr. Feldmann a special award for instigating and inspiring the most X of all the X games - the mosh - but I don't think they'll give him one. So far Goldfinger has two awards waiting for them at Whatever HQ - one for kicking Black Grape's ass in the back room of Lupo's after their first Prov gig, and one for getting a crowd surf going on stage at their second. CONGRATULATIONS BOYS!! We'll see you guys when you open for No Doubt in August!
Sorry I haven't mentioned anything Goldfinger played. If you own the CD they played almost all of it plus a few new songs. If you don't own the CD go get it, so far it is the CD of the summer and a definite must have.