Jonathan Fire*eater, Pulp
June 7, 1996
Lupo's
Jonathan Fire*eater's first gig since signing a big money deal with Disney's Dreamworks had many people in Providence wondering just why they hadn't heard of them before. Their set of organ melodies and striking lyrics was short but definitely sweet.

Singer Stewart Lupton has a penchant for being able to write haunting lyrics, that become whispered words when he sings them. He closes his eyes throughout most every song, and writhes around his microphone like Joe Cocker about to blow a fit.
The content of his songs is more intelligent than your average pop alterna-rock-- undertakers, descriptions of shady movie stars and the underbelly of American society- but in a unpretentious way.
The rest of Jonathan Fire*eater quietly plays their parts, leaving Stewart to live or die on his own. Organist Walter Martin stands out as the shining band member, playing an old machine with a spacy sound.
His trippy background really works well with Lupton's over-enunciated, hanging-on-to-my microphone-for-dear-life vocals.
Since Jonathan Fire*eater was opening up for Pulp there were tons of chicks about. While JF*E was playing I asked a few what they thought.

"They look totally Mod, but act sorta like hippies. I really like this. Its upbeat sounding but the songs are dark and depressing," said Cindy from Pawtucket.
Since this was JF*E's first gig in like 5 months, they were a bit nervous. At one point Lupton even apologized to the assembled, "I'm sorry if we seem a bit self-absorbed, but we haven't been playing in front of people for a while."
The band played songs from their new CD - "Tremble Under Boom Lights" as well as some new material. I love their song "Give Me Daughters" of which they did a long version. Later Martin played the hell out of his keyboard while sitting on an old suitcase. It looks a little silly, but he seemed comfortable.
The also did a smoking version of "The Search for Cherry Red." Stewart wrapped himself around his microphone and crooned (almost) his lyrics in one of those sorta-Jim-Morrison-drunk-and-about-to-fall-over dances.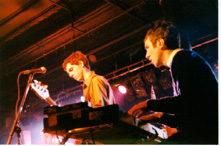 After their set I found Lupton sitting at the back of Lupo's. He apologized for the band's short performance, but was psyched that people seemed to like it. We chatted about how Pulp was selling $10.00 panties with their name on them, and how ridiculous their singer looked.
I watched most of the rest of Pulp's set alone, then went home. I guess it was ok - but Jarvis Cocker really overplays his pop star attitude. At one point he laid down on the floor to sing and get screamed at by the girlies. "Common People" was played - some underwear throwing ensued - the usual.
Jonathan Fire*Eater will be back in Providence sometime soon. If you dig trippy groove music with trance inducing lyrics- then I'd suggest going. Check out their CD too, it is really awesome- I played it at a recent party and people were grooving all over the place. Later_