Goldfinger & No Doubt
Although Goldfinger guitar player Charlie is reluctant to group his band with the recent "ska revival," they've been skanking all over the place this summer and for their third show in Prov this summer they opened for No Doubt.
The double bill was a sell out- in part to Goldfinger's awesome and upbeat stage show but also due to the desire of every boy in the area to get it on with Gwen Steffani of No Doubt.
People arrived early and the Strand was packed even during the ope ning act- who played like 4 songs and split because people were getting ugly for Goldfinger.
Not letting anybody down, Goldfinger came out and immediately got people bouncing and shoving each other around with a good version of 'Minds Eye" to get people warmed up. John and Charlie were their usual jumpy selves, running and jumping all over the place. The band is really tight and can pull off quick changes and start-stop song action pretty well.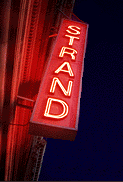 This time they mixed it up with "Superman" and "Fuck you and Your Cat" as new set editions. "Mabel" followed and even though the video isn't on Mtv yet most people seemed to know the words. Needless to say it was mosh madness all over the place- John stage diving in the middle of the song.
After "Mabel" came a bouncy "Anxiety" followed by "All I Want." Then instead of the usual Courtney love joke Darrin did his impersonation of Whitney Houston- dick tucked between his legs- and singing "And I will always love you.....," a real crow d pleaser it was. Something about a guy in a sabers jersey showing his pubic hair that really gets the kids going.
Since everybody was pumped they did "Bedroom" and "Answers" to bring them the set to its high point. No Doubt's trombone player did the solo in "Answers" and it was cool as shit.
Goldfinger closed their set with an fearsome "Fuck LA." Although it took less than 45 minutes they managed to impress another full house of kids. Since they caused a near riot at their last show The Strand made sure to put up the crowd barricad e to keep people off the stage. A few folks got squashed and need some help getting out, but overall it wasn't too bad.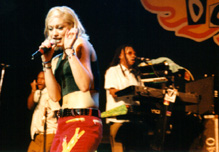 Anticipation for No Doubt and the so sexy Gwen caused more than a few of the boys to take a few steps closer, but they seemed ok with the heat level in the pit, so who am I to say anything bad. One dude even had a sketch of Gwen he wanted to give to Gwen himself- it wasn't too bad but I split the front scene to get some air pretty quick.)
No Doubt live is a really fun time. They are definitely a bit more ska driven compared with Goldfinger who punked it up a bit, but Gwen still rocks. For the tour band they added a trombone/ keyboardist and trumpet player to fill out their sound.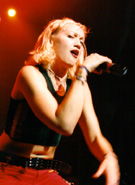 Watching Gwen is like watching an exercise show for Gen-X girls. She runs in place, does Kicks like David Lee Roth, runs from side to side, the whole nine yards. She should do a few shows with an aerobic step up there and film it for a v ideo, cause coupled with her band's bouncy sound, it beats the hell out of sweating it out to the oldies with Richard Simians.
By the time No Doubt did "I'm just a Girl" every boy in town tried to get her to look at him. She's cute, and the boys like her, but I really think that she's got a great set of pipes on her too. Her vocals sounded pretty good, and she can change pitch well, and keep up a strong sound even during her running about.

Unfortunately I didn't take down a set list, but I was doing a bit of dancing myself. It is summer and I really needed to let loose, have a few beers, and take a cab home. Instead I guess I'll load up a bunch of photos of Gwen for you boys. I hear she's taking a few weeks off herself, so you might need something to tide you over.