Sex Pistols
August 10, 1996
Great Woods
"My voice is shot but I'm still the best fuckin' thing you've ever seen," sneered Johnny Rotten. "Its hard to be humble when you don't mean it," he continued.
Yes, the "fat, forty and back" Sex Pistols reunion tour came through town with much less trepidation and worry compared with their last outing in 1976. All four of the "original" members have reunited and make no bones about the fact that they're in this for the money.

That understood, it was still interesting to see what these guys actually can do together. Really nobody has seen them perform, but everybody knows their songs.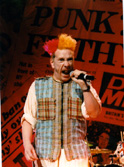 Going to see the "Filthy Lucre" tour was like going to see the Steve Miller band - every song was a sing-along. And just to make sure that the young ones in the crowd were included, the Sex Pistols performed their new "Filthy Lucre" CD IN ORDER!!
In case you haven't seen the new CD, it was recorded during June of this year at Finsbury Park in London., and released June 23rd. As far as live CDs, go this one isn't too bad - quality is excellent so every snide remark and buzzsaw chord comes across crystal clear. The reunited Pistols don't sound bad for a group of guys who haven't played together for almost 19 years, but they lack some of the edge they had 20 years ago. Nothing on this album is frightening or really on the edge of anything, its more of a greatest hits live compilation. Nothing from "The Great Rock and Roll Swindle" is on the CD, but they did "Roadrunner" as an encore at Great Woods.
| | | |
| --- | --- | --- |
| | | Anyway, promptly at 9:00 the Pistols took to the stage - Johnny Rotten has his hair dyed half red and half yellow with a shaved stripe across the middle. The 1996 version of the Sex Pistols also includes the rest of the original lineup: guitarist Steve Jones, drummer Paul Cook, and bassist Glenn Matlock, who was booted and replaced by the notoriously dead Sid Vicious. |
The Pistols ripped through "Bodies," "Seventeen," and "New York" pretty quick. Since they're a bit older they really don't move around too much - Glenn Matlock barely moved the whole night, while Steve Jones seemed able to sway around a bit, but not much else. Matlock did have a big goofy grin across his face that never went away, so he was having a good time, just not a mobile one.
Matlock was also in the best shape out of the group; Rotten looks kinds pudgy which takes away from his supposedly foul demeanor, Jones looks like a young David Byrne, and Cook sits unnoticed in the back.
However, since they've had twenty years to practice the reunited Pistols did sounds pretty fucking good. I don't know which mega-conglomorate soda or beer company sponsored this tour but they spent some big bucks getting the Pistols a decent sound system. Johnny's vocals were clear throughout the night, and Steve Jones' guitar was pretty crisp as well. They played in front of a huge curtain with copies of all the old headlines from when the Pistols originally scared the shit out of the English.
After "God Save the Queen," Johnny stopped to admonish some guy spitting gobbers at him. The guy must have had pretty good aim, since the space between the pit and stage was like 20 feet. Johnny told him, " din' know where you learned that but you learned it wrong."
The band ripped through song after song. I think the only reason most people weren't moshing was because it really took a while to overcome the shock that it was actually Johnny Rotten himself crooning "We're so pretty_oh so pretty_.Vacant" at us.
The Pistols ended their set with "EMI" which did get people moving and singing, but not as much as the encores "Anarchy in the UK" and a special "Roadrunner" that they haven't been doing at other stops on the tour. Johnny seemed pretty happy so he decided to improvise the lyrics to "Roadrunner"---"Where's a cop when ya need one/ usually in a donut shop/ with his radio off/ radio off/"
| | | |
| --- | --- | --- |
| | | As they were leaving the stage, Steve Jones threw a bucket of water toward the mad spitting dude which probably got him gobbed-on some more, but he didn't seem to care. Overall most people were psyched to have seen the Pistols. We knew they only wanted our money, but at least we got them to play a whole show in return. ( uh hello Oasis_.) |