Bush, Goo Goo Dolls, Providence Civic Center, April 10, 1995
Well it ain't been since Van Halen last year that 15,000 kids really had reason to jam themselves into the Providence Civic Center, so the early spring show with No Doubt, The Goo Goo Dolls, and Bush was an easy sell. Tickets went fast to the local young females and boyfriends scrambled to get in and make sure their women weren't defiled.
Since both the Dolls and Bush are fronted by pretty boys of the moment many of those attending spent quite a bit of time preparing themselves. Boys and girls alike primped and had a blow dry before this show started. Personally I prepared hoping Gwen from No Doubt was gonna notice me, but she didn't.
Although places like the Civic Center haven't yet figured out that putting chairs in the first ten rows is a waste of time, I was pleasantly surprised with the organized manner in which the crowed had in setting up a pit. Chairs were surfed over-head to the sides and back and it wasn't long before the pit had its proper place up front.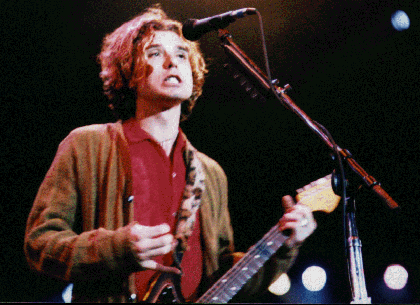 No Doubt rocked pretty good even though Gwen was sick. Their set was short but sweet, no surprises except that they had some good soul for a young band. Yes, everybody went nuts for ``I'm just a Girl.''
After that it was just another hour and a bunch of Goo Goo Dolls songs that most people didn't know until good old Johnny and the boys did ``Name.'' I'm sorry I wasn't paying more attention to their set, but so the girls showing boobies at Johnny up front was kind of distracting.
I'm glad the Dolls have made it out of Buffalo. I'm from Buffalo and I have to feel happy for anybody who gets the hell out of there. The Dolls have always been a good bar band around town kind of group, and since ``Superstar Car Wash'' I guess they've ``grown.'' Well at least Robbie has widened, but the video's are also getting better.
After their set, the EMT's fished the wounded youth of America out of the pit and prepped them for El Bush. It was rough getting water if you were stuck up front, and most of the people I saw getting treated would have been fine if they had had water. So Civic Center people- GIVE THEM SOME WATER UP FRONT!
Ok, Bush took the stage and did ``Monkey,'' then ``Machine Head'' like they owned the place. Gavin doesn't seem to care that there were tons of chicks hot for his ass, he just played. The sound was pretty good, except for Gavin's guitar, and their set cranked pretty good for a band with only one album.
| | | |
| --- | --- | --- |
| | | I'm not gonna compare Bush to Seattle bands, their sound is more generic, kinda what rock has become after Seattle. Kids just don't get cranked up for Bob Seager like they used to. Sure songs like ``Bomb'' sound like Nirvana, but I don't think that means Bush is automatically a Nirvana-wannabe. This is only their first album, and they managed to score like five hits off it. |
It was like a year ago, when I was working in the parking lot at the Holiday Inn when Bush first played Providence, Gavin was just another tired-looking English guy on a bus, as far as I could tell. Now instead of playing the Strand they're playing the Civic Center. There has to be something more that just ``the Seattle sound'' to get that kind of attention. So instead of continuing to justify them I'll print a whole page of Gavin pictures that you can cut out and put by your bed. I know you want to, so go ahead.