Mighty Mighty Bosstones Hometown Throwdown, Dec 10, 2000 W/ Flogging Molly, Avail, Drop Kick Murphy's
The Throwdown is a Boston tradition for like seven years now, so those unfamiliar should catch up. No matter how many albums they sell these days the Bosstones still pack them in around New England.

This was the last performance of the Throwdown 2000 and it was an afternoon show. I figured that since it was Sunday afternoon most on the jocks would be watching the Pats loose another one. Turns out I was correct, the jocks were at home, but the Irish were out in full force for a Sunday afternoon pint and sing along.

Flogging Molly was on stage when I arrived. They've been playing the East Coast for the past six months and they are totally worth seeing. Unlike their punk brothers the Drop Kick Murphy's these guys are a bit more traditional. Their singer, Dave King hails from Dublin, but the rest of the band is from California. Anyway they kick it up pretty nice and feature accordion and guitars both acoustic and electric. A great live band to go sing and hoist a pint with.

Avail was up next I think. They were more the traditional hardcore. They hail from south of the Mason Dixon I think since I watched them make fun of the Boston accents at the bar. Nice guys, lots of energy. Their singer did a few songs from the pit and they tossed it up nice.

The Drop Kick Murphy's were the 'surprise guests' for the final show. I don't know if they were the surprise each night, or what, but people were psyched the see them in Boston again. They should have a new CD of top-notch get your Irish up punk out soon. They did their new song about Guinness, which will feature vocals from Shane McGowan on the CD. They also are the only band that can make "Amazing Grace" into a punk anthem, complete with bagpipe. Needless to say they kept the crowd going before Dicky and the boys took the stage.

Even though it was night five, Dicky didn't seem to be doing too bad. Sure his voice was a bit gravely, but isn't that what we expect? The stage was lit up with all sorts of lights and no denomination seemed missing.

There was a menorah, a black Santa, some stars, and plenty of blinking tree's and snowmen. The Bosstones were straight up ready to play and they went through a greatest hits set that covered all the years. In between songs Dicky would berate the kids who climbed up on stage and then give them stuff.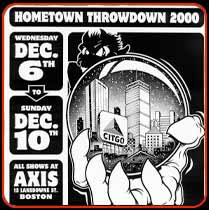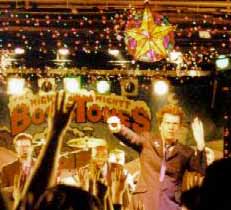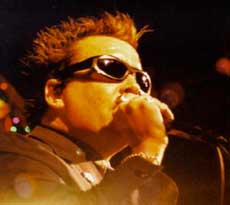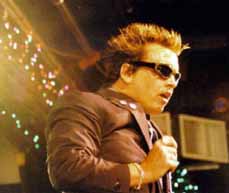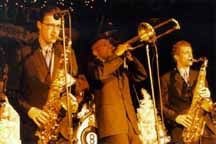 Drop Kick Murphy's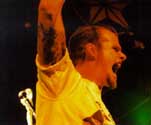 Some girl turned down a fold up camping chair with the bands logo that the band had signed and Dicky himself had sat a few days in. Other daring souls did stage dives for fun and accepted hats and junk for their trouble.
Anyway, Ben and Blanta danced, the kids all had a great time, and by the end they did a cover of Stiff Little Finger's "Tin Soldier." You gotta love the Throwdown. I look forward to it each year more than Christmas, it means a guaranteed good time, with a big band in a small club. Next up is of course the Amazing Crowns Providence Payback, probably some time in February. Makes the holidays worth living through.