Red Hot Chili Peppers, Foo Fighters & Bicycle Thief
Providence Civic Center May 13, 2000
This was perhaps the biggest show to play Providence in a while. NIN did just play the week before, but this was a much bigger double bill. I can tell it's a big show if Lizzy wants to go. This is the first show she's asked to go to in more than a year. Luckily Dave Grohl delivered.

We got our tickets in the MTV presale by sending in demographic info and getting a password. We ended up with gold seats three quarters of the way back and two rows up from the floor. Both the Foo's and Chili Peppers allowed me to take photos, only the Foo's made me sign a contract.

After a brief set by Bicycle Thief and with Star Wars music accompaniment, the Foo Fighters took to the stage. Dave Grohl is the only real refreshing grunge frontman left. I'm not sure if itÍs still even fair to call the Foo Fighters a grunge band, but these days you gotta call it something. The Foo's ripped through an hour of really excellent arena rock that lacked pretension, but was full of style.

Half way through "Stacked Actors," Grohl went for a lap around the arena floor, complete with guitar and goofy grin. He got groped and mauled along the way, but finally he got to the mixing boards at the back of the floor where he gave a wave.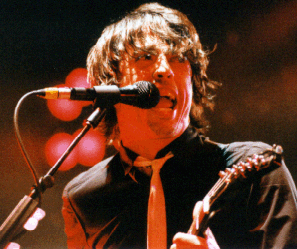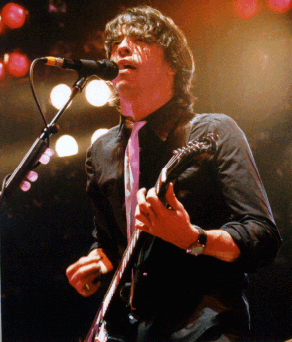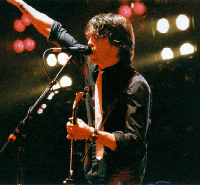 I've seen lots of people do the "lap of love" as I call it- people like Lenny Kravitz, Blink 182, Offspring, etc, but Grohl's lap inside the arena seemed cathartic for some reason. Finally maybe he's outgrown his old band and people like me can stop bringing it up.
Besides "Stacked Actors" the band also did, "My Hero," "I'll Stick Around," "A Lone and Easy Target," "Everlong," and many others. The band was crisp from touring, and new guitar player Chris Shifflett was excellent alongside Grohl. Grohl and drummer Taylor Hawkins did drum together to start "My Hero," which was cool since they both pound the skins pretty hard. Dave seemed to be playing a big kettledrum, but I couldn't really get a good look.
The Foo's have been to Providence a bunch of times before. Dave dedicated "This is a Call," to "Everybody who ever came to Lupo's to see us." It was another way that the Foo's tried to connect with the audience and people ate it up. With another video in super rotation on Mtv, the Foo's look like they will continue to grow. ---> Red Hot Chili Peppers