Lords of Acid "Fartsucker" CD Release Party Irving Plaza, NYC 2.27.01 Fat Tuesday!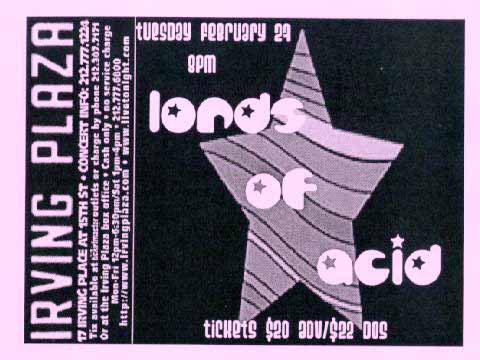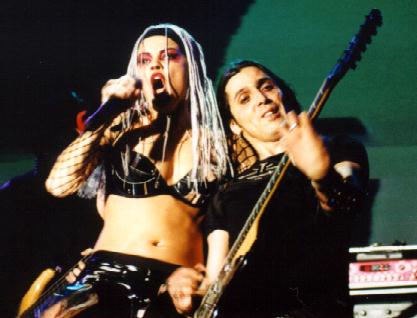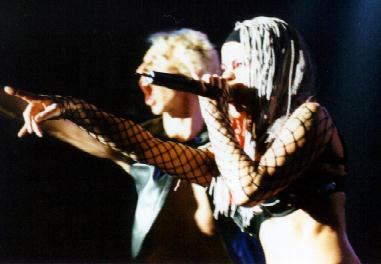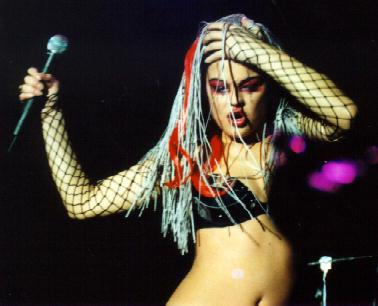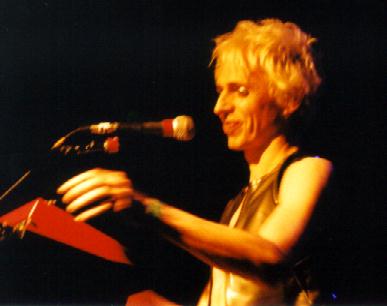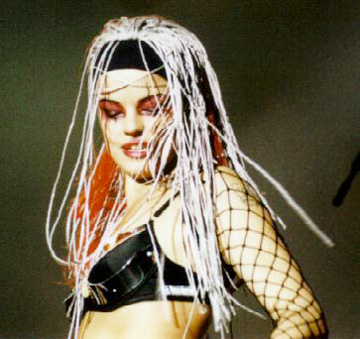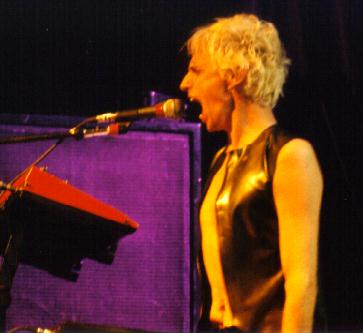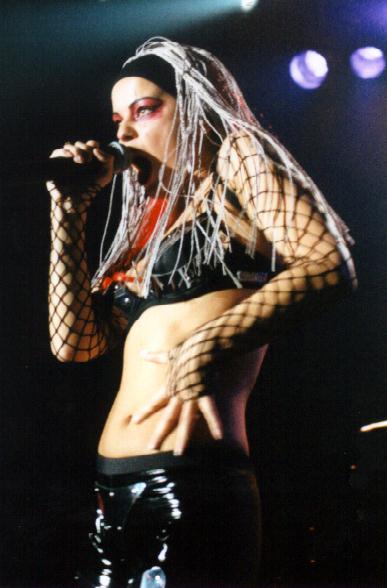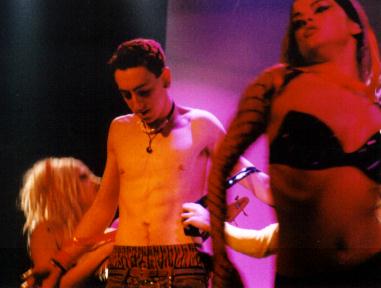 What can you say, it reads like some lining up of the planets. The new CD by Belguim's smuttiest techno troupe released on Fat Tuesday with the opening show of the tour in New York, New York. Knowing that the Lords are a bit over the top I decided that it might be worth the trip from Providence to New York.
I forgot to wear my Mardi Gras beads or latex pants, but so did lots of NYC. Some of the kids went for it as usual, and thank god they did because they really help to add to the atmosphere. It's always that way at a Lords show, they open the door for you to let your freak flag fly- if you want.
The new CD is a mix of the Lords of old and new. Its got some serious smut, but also some more serious techno. The Lords are famous for the porn laced lyrics and stage show, but their leader Praga Khan is also much more than the sex. "Farstucker" tries to be both. It succeeds 90% of the time and only the sitting around the bong song, "Surfin' Muncheez" seems a waste to include.
This was the release date for "Farstucker" so the house was pretty packed for a Tuesday. When I got there DJ Assault was doing the two turntable thing pretty well. He got a good response mixing the Superman Theme in and some tune that went like "your ma, your daddy , your sisters a ho." He threw out some CD's and posters and had some good moves.
The Lords of Acid is still Praga on keyboards & other electronic noise makers, Deb on vocals, Kurt on Drums, Hans X on Bass, and Eurhan on guitar (I think). I'm sorry I'm not sure about the guitar player's name- I talked to him during the DJ thing and he was a nice guy. He moved to Boulder recently and seemed pretty psyched about the new CD.
I'm not sure where Oliver, the other writer/ frontman/Drummer was for this tour, but he'll be back I'm sure. Also of note Ester was in attendance. She was the singer/ dancer for the last big tour with Praga Khan doing double duty for the Praga Khan band and the Lords of Acid. She's moved to New York and is working on her singing career. Praga's girlfriend was also around on dance duty. I'm sorry I don't know her name either, but she did a few nice numbers.
They began with something from "Farstucker" then did "Rough Sex. It's an old favorite so it got the crowd moving a bit. Some poor local kid got tied up, but it wasn't very dangerous looking. He was a young looking kid and they didn't give him much of a beating. They also did "Rubber Doll" before I had to stop taking photos. Deb was in a kind of Bondage meets Christina Aguilara outfit. She had silver looking braided hair and a black leather pants and bra thing going on. She sounded pretty good and Praga kept the beat going. Hans X kept to the back most of the time in his leather mask- probably because it gets hot in those things under the stage lights.
For the new one called "Worship the Lords," Praga's girlfriend came out and threw out some Mardi Gras beads. I like it because you get to scream 'Fuck You' during the song and that always makes it rate on my list. After that they did a remix version of "Lets get High" that was much faster and had trippy background movies that were like those 60's acid things. In fact the whole night there were movies playing behind the band- they were often smutty, or funny.
Praga's girlfriend made her second appearance for "Stripper," from "Farstucker." I'm not sure if it was a fast or slow version since she stripped down to a g-string. She had her nipples taped to comply with the law, or to keep them warm, but it was impossible to look at my pad to write notes.
They moved right into "Rover Take Over" or 'Doggie Style" which is one of my favorites of the new CD.
Its what you might think, full of smutty lyrics and open to a nice stage show. They showed movies of cartoon porn people and animals doing it doggie style and Deb shook her bootie appropriately. Next up were "Voodoo U," which got a good dance response, "Take Control" which had an African tribal thing going on, and then "Drink My Honey."
Praga said hello and thanks for coming to the first show after "Drink My Honey" and people gave him a nice round of applause.
Its funny how you focus so much on the front girl and all the stage carnage, but Praga is really the one keeping it all together and pumping out the majority of the noise that makes you want to dance.
"Crablouse," was up next and Deb was in her third outfit. This one was a white pvc dress. There was a good pit going but they couldn't keep it up during the stage show for "Spank My Booty" where the local girls come out and spank each other. "I Sit on Acid" did get them moving again and Deb threw out some big balloons for volleyball with the crowd.
For encores they did "Sex Bomb," and "Pussy." The long photo was taken during "Pussy." I didn't see any, and I didn't see and nipple. Harmless mom and dad. Nothing to worry about. I didn't see anybody having sex either, just a few couples making out.
It was a good time, but it was too short. I wish these smutty things would go on late into the night without having to move from bar to bar to keep up with the party people. I went back to my friends after the Lords ended and didn't go to the after party at "True," so I can't report what happened late night.
Anyway, "Farstucker" is pretty good. Its got some good solid techno dance beats and some good smutty songs for the faithful. Praise the Lords. Fuck the rest.