Drop Kick Murphy's Newbury Comics, Warwick, RI, 2.7.01
The Drop Kick's decided to do a mini-Newbury tour for the release of their new CD, "Sing Loud, Sing Proud!." I don't know if Newbury counted on packing the store to the gills with punk kids who didn't seem to buy too much, but I'm sure they made out ok. For their part the Drop Kicks tore it up pretty good for an 'acoustic' set with no pit and the 'small' bagpipes.

I had to feign a doctor's appointment to get out of work early and got stuck at the freaking s curve of hell in Providence in the daily accident. While I was sitting in traffic blaring "Sing Loud" I noticed that the dude behind me was Al Barr the DK's lead singer.

Figuring the band couldn't start without him I pressed on even though I was like 30 minutes late.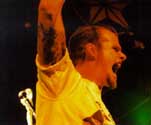 Anyway, "Sing Loud, Sing Proud" is their third or fourth CD (if you count the best of), and the band's third of fourth line up.
Through it all the Drop Kicks have managed to keep their Celtic spirits high and their songs fun. Who else can make the Boston College fight song into a southie pride trip?
The DK's opened with the ole traditional "The Wild Rover," which they also do on "Sing Loud." It's a clap along and we did. They also did "Which Side are You On?," The Gang's all Here," The Torch," "Boys on the Docks," and "Amazing Grace," with the 19 year old Spicy McHaggis doing the bagpipe honors.
Spicy is notable not for his age and bagpipe skills, but because he is the one in the kilt. The last song on "Sing Loud" is "The Spicy McHaggis Jig," which is a good warning to you all about the risks of Guinness, large women and a lack of condoms.
There were lots of kids milling about and it was hard to hear at the back, but it was still pretty damn good. The Drop Kick's are Boston's best chance at getting their Irish up. To prove it this time they get Shane MacGowan to sing with them on the CD version of "The Wild Rover."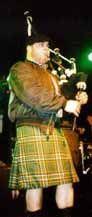 They also did "Finnegan's Wake," "Forever," and I think "Fortunate Son." Nothing got broken as far as I could tell and the guys stuck around after to sign autographs. I split before that happened, but I already had the CD.

The Drop Kick Murphy's should be out on the road this spring and summer. Go check them out. Before you do learn the Boston fight song by playing "Sing Loud, Sing Proud," in your car during traffic and screaming it at other drivers.