Southern Culture on the Skids, The Forty-Fives, The Met Cafe, 10.24.2000
As you get older it gets harder to find people who still want to go out and party. Lately I find it more and more difficult to drag my friends to a bar to hear a band that only I have heard of. The cure for this problem turns out to be Southern Culture on the Skids.

Although SCOTS have been around for more than 15 years I have never seen them. I arranged to interview them since they have a new CD, "Liquored Up and Lacquered Down." "Liquored Up," is full of drinking songs, cheap motels, and lonely nights. The band is lead by Rick Miller on vocals and guitar and Mary Huff on bass and vocals. Although she only sings two songs on the new CD the best is Mary's, "Just How Lonely."

Read my interview with Rick elsewhere in this issue of Whatever. I asked him questions after the band did their sound check. I was amazed during sound check at how good they sounded while still acting loose and screwing around. Rick told jokes to the five people that were listening while Mary fixed her microphone. Mary threw a ball for the bands dog Peanut while Rick got his guitar right. Everything flowed nice and there was no tension at all from anybody. It was probably the best two beers I've had all year.

By the time people actually started showing up I had been at the Met for about four hours. I figured that since it was a school night that the place would be half full at best, but early on it was obvious that it was going to be a cooker. When the Forty Fives took the stage there were maybe 50 people in the place, by the time they left there were 150.

The Forty Fives set was pretty good. They are a four piece from Atlanta that play straight rock and roll. They did a Sam Cook number and warmed the place up nice. The band has a big dude on the old Hammond organ who rocks out the whole time.

SCOTS took the stage and from the first note people were singing and getting up on stage to strut their stuff. Rick plays a tight but rocking guitar with plenty of twang and volume. I think their fourth song was called "Daddy was a Preacher, but Momma was a Good Old Girl," or something like that.
The Forty-Fives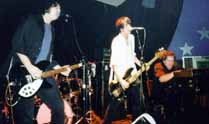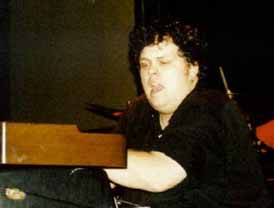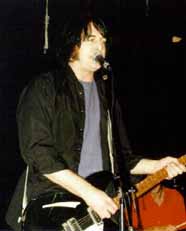 Southern Culture on the Skids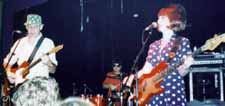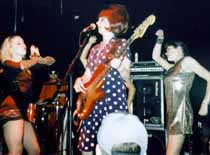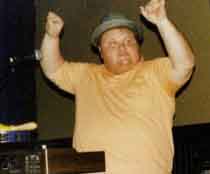 Mary sang it and all the ladies who'd been waiting to get up on stage and dance got to do just that. For the next number, the title track to "Liquored Up and Lacquered Down" the bands manager put on a big sombrero and parka to play the Mexican trumpet solos. Even though the album is barely out people try to sing along and dance.
I partied it up taking photos until I ran out of film. After that I drifted around people watching and talking to friends I found. Even though I left before the band finished it was still the most fun I've had in a while.