Reel Big Fish, Zebrahead 3/2/99 @ Lupo's Heartbreak Hotel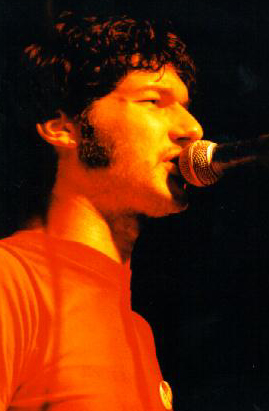 I think Reel Big Fish is accused of suffering from the old critical slump. Their new CD, "Why Do They Rock so Hard" is really pretty good, it hasn't spawned 4 singles like their last CD did, so critics say they are in a slump. Judging by the turnout at Lupo's on a Tuesday night Reel Big Fish aren't doing too bad, in fact things looked pretty good for the band.

There were plenty of ska kids and even some older ska fans out for the show, and RBF didn't let anybody down. They did almost two hours of their horn heavy ska rock shit that kept everybody dancing and singing along. I think they were missing a trombone player since there were only six guys on stage playing, not the normal seven but it was undetectable in the sound.
Singer Arron Barrett looked like he was ready for a pajama party at the Playboy Mansion circa 1979 in a pair of brown and white pj's and a pair of shiny white loafers. I was kind of shocked not to see him in goofy sunglasses and plenty of hair stand-up juice, but he still cranked out the tunes and kept the kids upbeat between songs.
Missing trombones and new looks aside the band was as tight and fun as ever. Their new songs are a little more standard rock type songs, but they still have plenty of reggae flavor to them. "Down in Flames," "I Want Your Girlfriend to be My Girlfriend Too," and "Brand New Song," all got good receptions from the crowd. There were plenty of songs from the excellent "Turn the Radio Off" as well. "She has a Girlfriend Now" allowed the ladies and boys to match singing wits since we got to sing it while the band played. "Snoop Doggy Dog," "Two for One," and of course "Sell Out" were also favorites. While the band may be more 'mature' now in their songwriting they still know how to deliver a fun show. They don't dig crowd surfing and let everybody know that when things started to escalate in the pit, but they aren't extreme enough to threaten to walk off if you don't cut it out. I thought Scott Klopfenstein's trumpet was sounding particularly good, and there were also some nice trombone solos as well.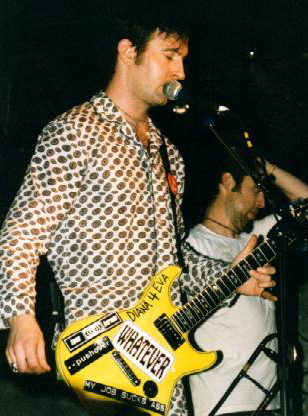 I missed the first band, or first two, I don't know, but I did get to see Zebrahead and was pleasantly surprised at how cool they were. Not ska, no- it was like Korn meets Hendrix with some guy singing choruses and playing rhythm. Actually it was that Korn style thing with a twist- some really funky guitar playing. These guys are good- they have a dude who raps, the funky guitar guy, the chorus singing rhythm fella and the required drums and bass players to round it out. I keep pointing out the chorus dude because he was the guy who kept them from being another thrash band; and it made them better I thought. If you like the Reel Big Fish sound you should pick up their new one- FM radio seems to have given it the wash in favor of some Everlast song that won't stop, but that's their problem.
Summer will be here soon and those FM people will be wishing they had pushed this CD a bit harder. I don't know what tour RBF might be on, but you can bet this won't be the last time they play the area in '99, so keep an eye out for them.