The Reverend Horton Heat The Amazing Crowns and Flat Duo Jets, Lupo's, December 11, 1998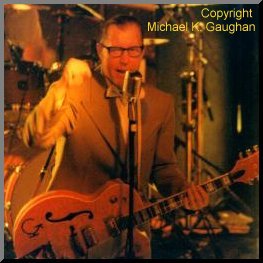 Ah, another Rev. Horton Heat, Amazing Crowns show. These guys toured together last year or the year before, and it rocked. Ye see ya got yer greasy rockabilly, and then ya got yer slick rockabilly. The Crowns are greasy, and the Rev, is slick.

The Amazing Crowns are our local fav's, so as a Christmas gift they put out a 5 song EP with a Christmas song, "One More Christmas (to put up with you)," and four live tracks from another Lupo's show 10/10/98.
It was an awesome surprise that made my night since I needed a gift to send to the family this year. A Crowns CD stuffer is just what I needed. Priced at 5 bucks I was able to splurge and get one for the whole family. Check their website www.amazingroyalcrowns.com to see if they have any left. If they finally change the site to match their changed name the URL might change, so act fast.
Flat Duo Jets opened up the evening. FDJ is a three piece with a stand up bass. They did some old style rockabilly and some more middle of the road rock and roll as well. They had some good grooves, and plenty of funky rockabilly. By the end of their set there was a mini swing pit in the back with a couple of dudes throwing babes up in the air and everything. It resembled a Gap commercial I've seen, but they get credit for obvious hours of practice.
The Crowns were up next. It's been a while since they played town, so if was a full house of greasy folks. We all know its been a long year for the band, with member changes and the forced name change, so it was cool to see that the guys in the Crowns have painted their cases with "To the Loyal" on one side and "Still Royal" on the other. I thought that it was a nice way to vent and get on with it. They waited till the end to hold one of them up, but you could kind of see it painted all over everything anyway.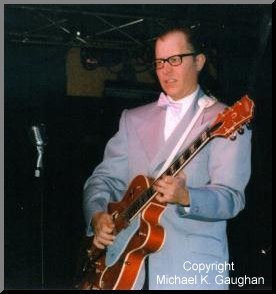 As the loyal know the Crowns smoke. Punkabilly, is what they call it, but only because they put so much energy into their live show you can't really call it rockabilly. They did lots of songs from their self-titled Velvel release like, "Rollercoaster," "Fireball Stomp," "If He Can't," "1965 GTO," and of course, "Do the Devil." They also did "The Ride" with Dennis Kelly from the now defunct (I think) Boss Fuel, and a song called, " 1/2 Size" with some horns. "Greasy" was in there some place too. The whole thing was a blast- great wide body guitar, stand up slap bass, snappy drumming, and Jason jumping around, singing, and shoving the mic into the pit to let them sing some too.
For the loyal- they should be doing a "Providence Payback" early spring. For everybody else- the Crowns have been on a non-stop tour forever so go see them.

Although you'd think the Rev. might be anti-climatic after the hometown favorites, he wasn't. Providence has always given the good Reverend a real fair shake, and he rarely disappoints. This year he was looking a bit more refined, with some classy looking retro pants and glasses and long grey coat. Although the Rev. was looking all cleaned up he still came to town to play. He ditched the coat, cranked into "Learn My Lessons Slow," and did some good rocking for Providence.
The band was looking well- especially Jimbo who did his favorite song, "Jimbo" and had 'Psycho" in black tape on his big fire painted stand up bass. I'm a fan of the cheesier Rev. HH stuff like, "Martini Time," instead f the longer jams, but they mixed in both. As a special home town treat they did, "Rock This Joint" with members of the Amazing Crowns and got two slap bass players going with a horn section and an extra guitar to really let one loose for us. With all that how could you complain? Awesome show- no question.