Save Ferris, MXPX, and Reel Big Fish @ Lupo's, 9/26/97
Ska rules these days, you can't escape it. I've loved ska since I saw the Specials when I was in Jr. High. The backlash against ska has started and Save Ferris and Reel Big Fish take some shit from whiny scenesters, but both bands showed they could kic k some checkered butt.
Lupo's was sold out at 8:30 when I showed, and by the time Save Ferris took the stage at 9:30 I was surrounded by 17 year-olds fighting over cigarettes, trying to steal my beer, and trying to get some air.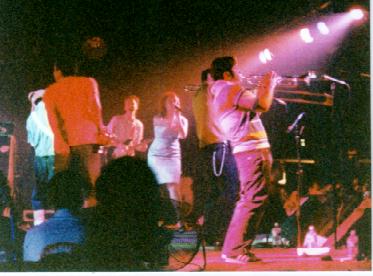 Save Ferris was pretty good. They do ska-swing and straight ska and their lead singer works the folks up and even teaches the pogo to those too young to remember.

It was pretty decent music. The band is a 7-piece; 3 horns, bass, drums, guitar, and the singer. They did the now-obligatory Op Ivy cover and "Come on Eileen" which kicked ass.
Save Ferris is opening for Goldfinger at the end of October which make for another great bill. I don't have their CD, but I'm definitely going to try to get it to see how they sound in the studio. Live they were pretty damn fun to shake it around to, a three beer band because of all the sweating.
MXPX was disappointing because usually the garage band punk boys are first, so after skanking it around for 45 min people got bored when they were expected to slam to mediocre music instead of swing to some good shit.
Before they came out I questioned a bunch of the high-school-aged kids around me to see if anybody saw the big Mtv story about MXPX being a "Christian Punk" band or not. Nobody knew they were out there pumping it for Jesus, and nobody cared when they came out.
One of the kids I had questioned leaned over while they were playing and said,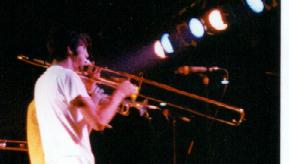 "You can't understand them anyway, so if they're Christian I guess it doesn't matter." I couldn't tell if anybody had been shown the light or not, the reaction was lackluster because of that whole skank vs slam thing I mentioned eariler.
Reel Big Fish was the band everybody was waiting for. Since they player here in January they've become the new skatastic band of the day. They really hit the horns hard with a tight punk flavor that isn't angry but really hits the spot after a long day.

Aaron the singer has adopted the checkered goofball look, but his guitar is the only one in the band and he holds his own out there. He does get a lot of vocal backup from Scott the trumpet player, but it really ads a nice harmony.

The horn section in RBF is just phat, phat, phat! They are solid and tight, a brick wall of sound that completely kicks ass. RBF don't use horns to add to their sound, horns are their sound.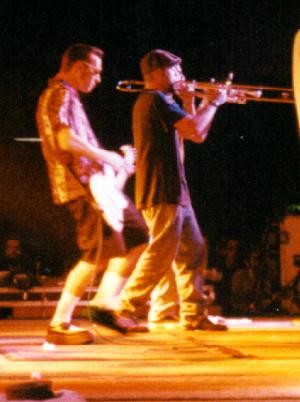 Most of the lyrics on RBF's CD are about selling out, dressing like other people, being trendy, and playing in a ska band, but people really don't care because they sound so good.
I read this on the internet- The Miami Dolphins bought "Trendy" from RBF to play at their home games as some kind of anthem because at the beginning of the song there is a little "Everybodies doing the fish" chant and a horn solo. The song lyrics go "Its not so bad being trendy/ every one who looks like me is my friend/ please don't hate me because I'm trendy/ they're not going to laugh at me again," but the Dolphins don't care because that one little piece of the song that they can use kicks some as s for them I guess.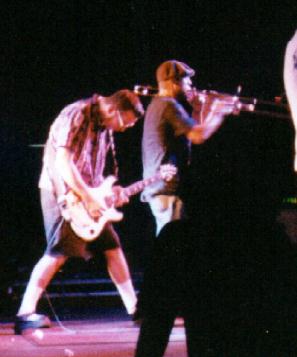 So, of course the place was a riot. They opened with "Everything Sucks," and we danced it up and sang along with everything from their "Turn the Radio Off" CD, and of course the obligatory Op Ivy cover to pay proper homage.

Aaron didn't play his guitar with a spork this time, but he was still a bundle of energy and tons of fun. He got the singer from Save Ferris to join him to sing the female part of "She Has a Girlfriend Now" towards the end of their set, which was pretty cool.

RBF shold be on the road for a while longer so check them out if you can.
Don't worry about the all ages appeal, it only makes the line at the bar shorter and its easier to see over all their heads.
Don't forget to check out Save Ferris and Goldfinger when they play at Lupo's on October 24th- that one should be fun as well.