Foo Fighters, Talk Show @ Wallace Civic Center, Fitchburg, Mass, Thursday October 9th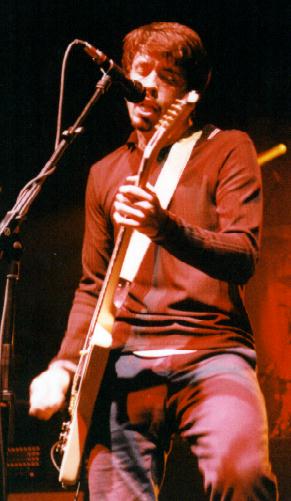 Thank God Dave Grohl is around. Currently he's got the best grunge band since you know who, and even though Pat left the band, the Foo Fighters still kick ass.

I went to both the Providence and Fitchburg shows, and though the sets were pretty close the Foo Fighters really delivered an excellent set of power chords and great rock and fun.

I didn't have a photo pass for the Providence show, so I went and just hung out casual-like as a break from being the guy who writes down the set list and pushes his way up front to take pictures. I had a great time and they were really solid fun.

Fitchburg is a great venue for a show. Its bigger than the Strand or Lupo's, and it's a Hockey rink in the middle of almost no place so kids can really have a great time all squashed up front on the huge rink floor moshing and thrashing around.
Concerned Parents watch from the few seats there are or from the concrete balcony around the top.
Unlike most shows that are hot as hell inside the hockey rink, this show was during hockey season, so there was ice on the floor. The management of the arena put plywood down over it but it was cold as shit to stand on and kind of foggy too. After the Foo's ripped through a blistering version of "This is a Call" Dave commented on how it was great to see two thousand people with hard nipples all togather in one place.
They did "Monkey Wrench" at the beginning of their set to help heat up the place, but it really wasn't necessary. The Foos have a great mix of power chords, punk speed, pop hooks, and raw energy that is impossible not to get off on. Dave is all over the stage pumping at his guitar and thrashing about, while the band keeps things together.

New guitar player Franz Stahl is doing a great job replacing Pat Smear. I guess he's been friends with Dave since his early DC days or something, but he really has made the change effortlessly. The Foos have had kind of a revolving line-up for a while, picking up Taylor Hawking a while back from Alanis' tour band none the less- but he's really a great drummer- he pounds the hell out of the skins and plays behind the plexi glass to keep his thumping noise down so you can hear the rest of the band.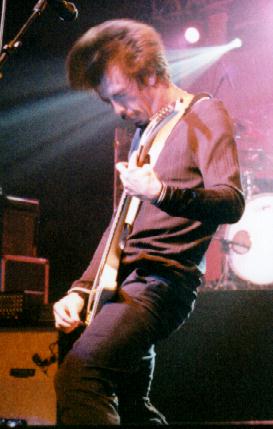 The band did tons of tunes from their second CD, "The Colour and The Shape," including "Hey Johnny Park!," "Doll,"Enough Space," and their two hits from it "Monkey Wrench," and "Everlong." They also did a supercharged version of the title track that's only available as like a B-side import. They did the best of from the first CD as well- "This is a Call," "Big Me," "For all the Cows," great punky "Weenie Beenie," and "I'll Stick Around," as one of the encores.
If that isn't enough to rock your ass on the rink they also did a cover of Gary Newman's "Down in the Park" to show they know some history as well. I really can't get over Dave's evolution of a front man. A few years ago at Lupo's he mostly kept his head down, thrashed his long hair like a metal man and rocked without much comment. Now he's relaxed, joking with the audience, and really delivering truly awesome rock and roll. Seeing them two times right after another really proved to me how it is Dave- because he's the only one who really speaks to the audience who conveys the easy going fun time attitude that surrounds the Foo Fighters.
Mtv of course helps out with the general Foo frenzy, but this show wasn't a sell out, so nothing is guaranteed, even for somebody with as much going for him as Dave and the rest of the Foo's.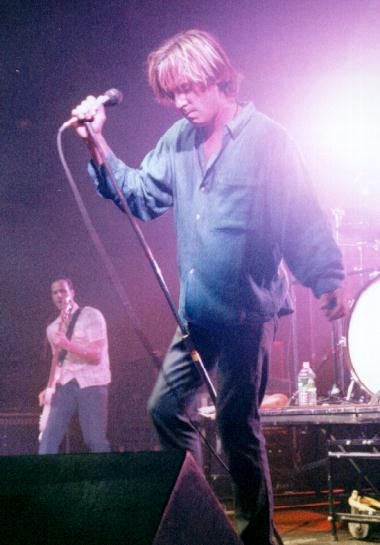 The opening band was Talk Show, or as they're known, the dope addictless Stone Temple Pilots. They were ok, but the new lead singer makes them sound like a Who cover band. They did "Hello Hello" to a frenzied pit, but when they tried Prodigdy's "Breath e" it didn't work so well. They were solid as far as the licks and beats went, but over all they failed to impress too many people. (In Provedence at least they let some moron on stage to sing "Vaseline." As a totally unrelated side note, after I drove the hour and a half home I went to bed nice and happy like, but woke up at 3am with my legs totally frozen solid. I couldn't move from the middle of my back down.
It was totally fucked up, I don't know if it was the ice rink or not, but it freaked me out. I made Lizzy drive me to the Emergency room where they shot me up with drugs and sent me to the doctor for a Motrin prescription. Two weeks later and its still killing me so I'm going to Physical Therapy because I have medical insurance and its paid for.