Chixdiggit, The Groovie Ghoulies, The Muffs @ The Met Cafe, 7/24/97
Another great bill at the Met. I was totally psyched that the Muffs had decided to play the East coast again so this show was top priority for me.
For once I was glad that I showed up early as hell. When the Groovie Ghoulies went on there were probably 40 people at the Met. These guys are much more into the groove than the ghoul, but they're tight and have great energy on stage.
"King Kong" was the one everybody that cared was waiting for. Ghoulies ripped it up long before they got to it- fast, loud, and frantic- the way punk ought to be.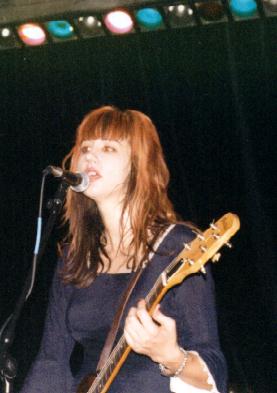 They threw out prizes between songs so everybody would like them, but it wasn't necessary.
Kim Shattuck and the other Muffs were hanging out watching the Ghoulies. Groovie Ghoulies is from Sacramento and I think I've seen ads for their stuff in like Maximum, so check them out. The place got crowded after a while, but it wasn't out of control. Groovie Ghoulies were outta there pretty quick.
Chixdiggit were next. I thought they might have a midget or something in the band because the center microphone was set real low, and it wasn't like a sax microphone, so it threw me. Turns out the lead singer of Chixdiggit spreads his legs real wide, strums his guitar low, and ends up singing into the mic from waist height. Oh yea, it was a pretty bold stadium rock technique, but it wasn't their only one.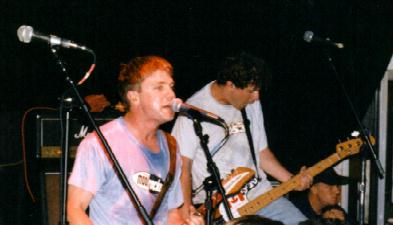 Chix music is punk sometimes, rockabilly others, and flat out rock the rest of the time. they didn't mix the different genres too much, and it turned out to be pretty enjoyable. Chixdiggit is a Canadian band and like many Canadians they get a bit goofy from all the beer your forced to drink.
These guys did songs like "Roll my little 3-2-3," "The Toilet Seat's Commin Down," "Henry Rollins is No Fun," and to top it all off "Knock 3 Times on the Ceiling if You Want Me." They all did solos from the edge of the stage, did some of Pete Townsends 'windmill' playing, and as I said the singer has to do a near split to sing into his microphone.
Towards the end of their set Kim started throwing ice at them and they batted it back in millions of pieces. They also announced that Ronnie of the Muffs has the "Biggest penis in rock and roll." They did a song for Ronnie, and then one called "I Wanna Hump Ya" to end their set. It wasn't the most brilliant music, but it made me wanna drink so it was ok.
The Muffs got their shit plugged in, promised not to fight like every other time they play Providence, and ripped into a 20 song set that covered everything that Kim could remember. People shouted out requests for old stuff from their first CD, but the band didn't seem to remember anything from it.

No matter, they did play the majority of the songs from both "Blonder and Blonder," and the new "Happy Birthday to Me." Kim and the rest of the Muffs are looking good, playing better, and really doing everything they should. Why they aren't the biggest pop band in the world I don't know.
Songs like "Crush Me," "Honeymoon," and "All Blue Baby" are excellent on the CD, but of course The Muffs put on a great show, so they were even better live. Although the new CD doesn't feature Kim's patented punch-in-the-gut screaming she still belts them out when they perform. She did a super long version of "Ethyl My Love," and even talked about how Ronnie did have a huge dick that would be on display after the show in the Chixdiggit van.
They also did "Green Eyed Troll," "Sad Tomorrow," "I'm a Dick," and even invited Ronnies wife- Lisa from Cub on stage to sing a Cub song. Cub has broken up, so I guess Lisa has plenty of time to tour with the Muffs if she feels like it.

If you missed the Muffs of the Drew Cary HBO Special try to catch it in re-run to see how awesome the Muffs are. Buy their new CD, then buy their old ones. Worship the Muffs. I can say no more.