Kara's Flowers, Save Ferris, and Goldfinger, @ Lupos Friday, October 24th 1997
It's been a busy fall in Providence. Save Ferris has already been to town twice in the past few months, this is Golfinger's 9th show here, and shit keeps getting booked. I don't care what they say about record sales being down, when Save Ferris announced they were signing CD in the back after the show, Lupo's had to send another bouncer back there to keep the kids in line. If you rock you sell, and all these bands are rocking and selling.

I went to this show early specifically to check out Kara's Flowers. I got their press kit and arranged to interview them since their CD was produced by Rob Cavallo (who did "Dookie" and the Muffs who I love). They aren't anything like Green Day, instead of paying homage to Joey Ramone, they tend towards the Gallagher brothers.

Their CD, "The Fourth World" was recorded mostly while they were in their last year of High School and they were a genuine Brentwood, CA hit. They sound sort of Brit Pop, but live it comes off punkier and less polished than the CD.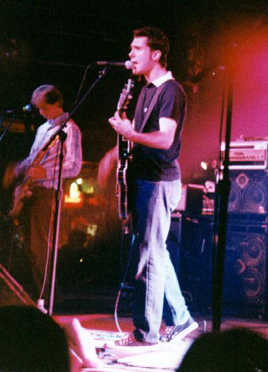 Anyway, I was there early talking with their drummer Ryan Dusick in back by the t-shirt booth about being young, working with famous producers and shit like that and I ended up almost making him late for their set. Check elsewhere for the interview in this issue.

The band came out and rocked through a really fast version of the best song on their cd "Oliver," which is less melodic and punkier than lots of their songs.

The kids formed a pit pretty quick and really seemed to enjoy the band's set throughout. The place wasn't packed yet so there was plenty of room to enjoy the upbeat vibe the band gives off- the pit had space and all the non-moshing all agers had room to get close enough to check out the boys and bop around too.

Kara's Flowers did a video for "Soap Disco" that Mtv plays sometimes at night or on M2, but it didn't take off like mad. Such an early failure hasn't gotten the band down, instead they keep plugging away with the pop tunes.

Although these guys are supposedly the "new wave of positivity," they did seem to have a touch of Green Day in them- or at least singer Adam Levine kinda goofed around like good old Billie Joe. Their CD is really good, but their stage performance is where you want to see them- they are so young that the band evolves as it goes and they seem to be turning a bit punkier and like to thrash it up for the good pit reaction. I also noticed that they had all these pretty boy photos in their kit, but look much more normal outside of the posed shots.

For their last song they did Queen's "We are the Champions," which was cool, but some kid who flopped up on stage knocked the singer square in the puss and it pissed him off bad. The bouncers didn't have a barracade to help keep kids off stage so the whole night was full of kids on stage- this kid was one of the first and Adam had been warning them to try to stay back because he didn't have too much space himeslf. It kinda made everybody feel funny to see him get rank pissed, but overall their set was really well received.

The highlight of the set seemed to be the pogo along "My Ocean Blue," which got everyobdy bouncing along. These guys could go places, so keep an eye on them.

Next up was the brilliant "Save Ferris." I've decided that this band rules the sheska world for the moment. I've had my No Doubt fill and I want Monique. Gwen better look out- Monique is bigger, louder, and and really works the hell out of anytown USA almost at will. Their first Providence gig opening for Reel Big Fish was a blowout, so this time people were prepared for her. She's got people so by the balls somebody even brought her a nice feather boa to accent her pink hair and dress.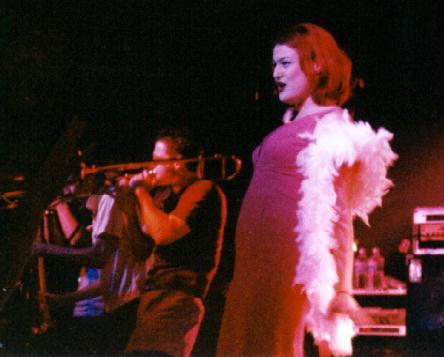 From their first song to the last the place got progressively more crowded and swinging. WBRU has been playing their cover of "Come on Eileen" for a few weeks, but the CD version pales compared to having Mona work the kids up to it and getting them to sing and swing like nuts for it.
Sorry, I'm having Monaitis because she let me take her photo with the zine and said she'd read and liked it. The band has a CD, "It Means Everything," which is on a major label so you can get it for yourself to check out.
Monique told a story about how their video was on Mtv's "12 Angry Viewers" and like they ripped it to shreads and shit, but what really pissed her off was that some stupid fuck said she was pudgy and that's why they shouldn't play the video. She encouraged us to write Mtv and complain- I did, you should. She really is good.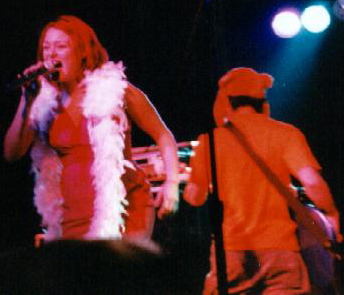 I'm not the only convert- Lupo's went nuts for it again. Every time they play here they get an excellent response. The bouncers were forced to sit on the stage and push back kid after kid and everybody was having a skatastic time. Besides "Come on Eileen," the band did Op Iv's "Artificial Life," "Everything I Want to Be," the goofy sing along, "Spam," and "Sorry My Friend," among others.
Goldfinger I'm sure wasn't worried about another Lupo's show in Providence- it's their ninth show in town and they usually rock the shit (and cause problems letting too many kids on stage), so there was no pressure.
They ripped through "Answers" as an opener just to show off and didn't stop until three songs later. Their new CD, "Hang Ups" ska's it up a bit more and they even have horns on tour with them this time, but the underlying punk is still there.
Songs like "Superman" and "If Only" are really great songs and come off excellent in concert. They did most of their songs- like 22 or 23 songs by my count, and it was just fun the whole time.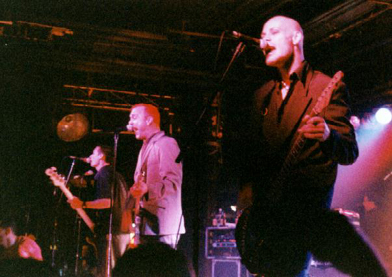 Goldfinger is really on of my favorite club bands these days- check it out- Whatever has covered them four or five times I think, and I interviewed Charlie the guitarist for Issue #4, so I've seen them when they get like 75 people on stage to sing and dance just to piss off the bouncers at the Strand, even Superbowl Sunday when that kid stage dove into the pole and they had to stop and help him out, but still Goldfinger refuses to pull any kind of star trip- they still dive into the kids with their instruments and microphones to surf, sing, and soak up some good feeling and keep letting kids on stage to sing even if they act stupid and knock shit around.
Since they did 23 songs they played most of the new CD and the last one, as well as the encore "Rio" which they did for the Duran Duran Tribute CD. Among the ones that caused the most riot and mosh madness were: "Here in My Bedroom," "Mabel," Miles Away ," "Fuck LA," "Fuck You and Your Cat," "My Girlfriends Shower Sucks," "Chris Cayton," "My Head," "Question," "This Lonely Place," "Skiers Must Perish," and a whole bunch more.
Maybe I'm biased because I've had good luck meeting and interviewing these three bands and they have a decent fan base so the shows are usually well attended, but I really liked this show and had an awesome time bouncing around and singing along. Rocktober vibes all around.