Blue Meanies, Reel Big Fish, & Goldfinger
@ Lupo's, Superbowl Sunday, 1997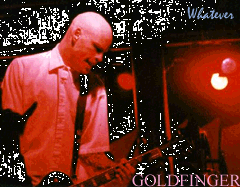 For most People in New England Superbowl Sunday sucked, but not for those who didn't give a shit about the game and went to Lupo's to see this awesome triple bill. Every big jock and Frat boy was home crying into his Sam Adams while the lucky few dan ced and jumped around until we'd had our fill and more.

Blue Meanies started it off with a loud ska core set to loosen everybody up and get them moving.
They're a 7-piece from Chicago and they rock pretty good. I went up front to take a photo or two but they had some pretty bad b.o. going so I was forced back to have a beer and dance further back.
Hygiene was really the only bad thing about the Meanies; they funk it up with a sax and trumpet and switch from jazzy stuff to hard-core punk and even some ska/ salsa shit to keep you dancing. Unfortunately they did''t have a place to sleep so they ha d to ask people to put them up.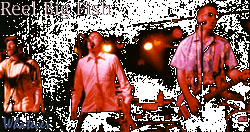 Reel Big Fish were next, if you haven't heard them yet, GO BUY THEIR CD; these guys rule. Their sound is bouncy, beach time, ska with plenty of horns and goofy lyrics that are just great to skip around singing.
Singer Aaron Barrett plays his guitar with a plastic picnic fork, while on either side of him the two trumpet players and two trombone players jump around and dance. They mix plenty of punk in - and even did a cover of A-ha's "Take on Me" for some cheese.
Their new CD "Turn the Radio Off" was like number 8 on Rolling Stone's "Alternative" chart the other week, so I guess college radio must be on to this. They may be another one of those happy California ska bands, but they are a damn fine one. Beside s songs about beer and girlfriends, they also sing about being in a band and not being able to get beer and chicks, not too heady but sarcastic as well as fun. Everybody at Lupo's had a great time jumping around. Did I mention there were no big jocks th ere? Every geek music fan for miles could swim in the pit without worry of getting punched in the gut.
Before Goldfinger came on we got to see the Sublime Video Tribute. I can't slag Sublime because I really like their shit, too bad he was another stupid junkie. They use his Doberman in the videos. I hope his widow gets the checks.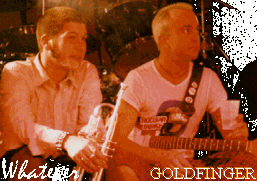 Goldfinger went on and ripped through like five or six songs before taking pause to introduce some of their new songs. I love Goldfinger so it was great. More people had showed up, but it wasn't really packed by any means. Goldfinger's singer John even commented that, "This is like playing in somebodyÕs cool garage. I love this."
They did most of their first CD, but also played many of the new songs they've been working on for their next one. They've been on the road for like a year and a half now, so their set is pretty tight.
It seemed everybody wanted to jump up on stage and sing with the band, so John let them go at it for "Here in my Bedroom," but eventually so many people were on stage that nobody was left to catch stage divers. Some dude took a face plant into the fl oor that was so bad the band jumped down to give him water and make sure he was ok.
I talked with Goldfinger on their bus before the show. In between games of Mortal Combat on their new SuperNintendo, Darrin and Simon told me they were planning to end the tour soon, take a week to vacation in Hawaii, and head right to the studio to r ecord. Hopefully the new CD will be out by the end of summer- that way we won't have to wait too long before they come back to town.