The Agents, The Shods, & The Mighty Mighty Bosstones
@ The Strand January 31, 1997
Proving their record company wrong when they told them not to tour before the new album came out, the Bosstones played another sold-out show that was less plaid and totally rad.
Providence's own Agents opened it up with their full-on horn skank fest of fun. They do some really good ska rock stuff with a couple saxophones and a girl trumpet player. I hear they're putting together a new 7" or a CD, so keep your eyes open for it .
The Shods played next. They weren't ska, but they did have the rude boy punk thing down pretty good. People weren't into the singer's Joe Strummer Stray Cat Snarl, but when they started giving the band shit Dickie from the Bosstones came out and yelled 'Until you've got a better band you keep those middle fingers to your own fucking self," at some dude flippin the bird. I didn't mind the Shods - they're from Lowell, Mass. and they should be around again soon.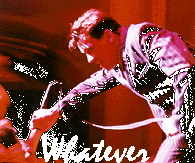 The Bosstones came out and the place went crazy. It's pretty cool that they've gotten so big, but man I hate all the lug nuts in the pit. Sorry guys, it's not all of you, just the dude I saw shove a small 15 year old from behind - then laugh with his b uddy when he went sprawling.
I give the Bosstones credit though, in between a great mix of new and old tunes Dickie made sure to point out the promise of other bands by giving a speech about respect.
The new songs all sounded great; I really liked one called "Desensitized" or something. It was punky and fast with some cool barking shit from Dickie. They also did old favorites like "Where'd you Go?," "Hell of A Hat," "Do Something Crazy," and "Someday I Suppose."

It wasn't a really long set, but it was well worth it. The Bosstones' new CD should be out at the end of February, so I'm sure they'll be out on the road again really soon.