Nashville Pussy & Midnight Creeps with Motor Mags, March 10, 2002 @ The Greenroom
| | | |
| --- | --- | --- |
| | | Sunday night's a bitch to go out real late on, but you can't control a Nashville Pussy tour. They lost another bass player, but don't worry they hired Katie, who used to be in Famous Monsters, and life goes on. The new CD will be out in May on Arista and it should be called, "Say Something Nasty," not, "Keep On Fucking," like we all hoped. But the Japanese version might have the original title. |
| | | |
| --- | --- | --- |
| Motormags were on when I arrived. Uncle Pete had posters, and Motormags were pretty good, so the night was looking up. I had a few social drinks, soda, all soda, and had a chat with Pete and Mike from Freakshow. The FS tour went well, so keep an eye out for them to be on the road soon. | | |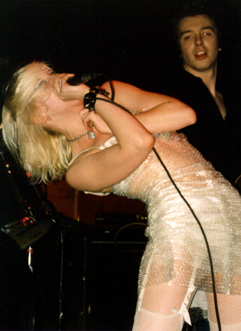 Midnight Creeps has captured my heart as the best new R&R in Providence. Its punk, loud and nasty. Songs like, "Cunt," and "Punch a Skank," you've gotta love. Lead singer, Jen was in a bubblewrap wrap for the show and did a pretty good set. The band is pretty good, and they seem hungry so keep back.
I've been in the Pussy posse since I first saw them with the flame spitting bass player. Even without they still kick ass. Its like my childhood and adult life record collections burned up and came togather as a southern rock punk band. Blane and Ruyter are both excellent guitar players, and they've got a way with the lyrics.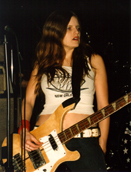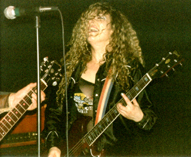 The set list read: "Say Something Nasty," "Drunk Daddy," "Struttin' Cock," "Piece of Ass," "She's Got the Drugs," "All Fucked Up," "Johnny Hot Rod," "Shoot First," "High as Hell," "You Give Drugs A Bad Name," "Let's Ride," "Go to Hell," "I'm the Man," "Keep on Fucking," "Fried Chicken and Coffee," "Go Motherfucker Go." The titles alone ought to be enough to get anybody off their ass and into a club.
Ruyter still ditches her shirt when she's comfortable, or hot, I'm not sure. Not enough? Blane has this raspy voice, and tells stories that all start "Hey motherfuckers!" And the bass player is stacked too. Just go, for christ sake.

This show was sort of a miracle.

NP was in Boston on Thursday and NYC on Monday with the Rev. Horton Heat, with no Providence date listed. They added this because touring is their life and they wanted to make me happy. I think the Rev. was on Conan or something, but the Pussy came to Providence and that's a good thing.



The Midnight Creeps