The Amazing Crowns, The Worried, Fast Acting Fuses, Lupo's, November 30, 2001


I think I moved to Providence in 1994, I forget now. I do know that since I've been here The Amazing Crowns have been the anchor for the scene that I seem to follow. They opened for the Cramps, The Rev. Horton Heat, and shared bills with the Bosstones. They started the "Providence Payback" ala the Bosstones "Hometown Throwdown," and played summer shows for WBRU that were packed. November 11, 2001 they called it quits at Lupo's with one final bash.
It's really sad to see them go. Even if you don't like the rockabilly/ punk thing, you have to appreciate their dedication to Providence, the city they call home. Their shows were always hot, sweaty fun and they always made sure to book other local bands, no matter what their style.
As I say it is sad, it's another sad thing to happen in a long list, for both the band and this city. Anyway, the final show was anything but depressing. It was packed early and rocked all night long. Fast Acting Fuses were on stage shortly after I arrived and they weren't bad. They were more straight rock and roll with some punk. A good five piece.

Poster Punk Pete was in back with the merch booth selling posters. He's done like five or six for the Crowns and had each for sale, including one for the last ever show. His site is www.philaarts.com. Another local poster artist named 'Uncle Pete' was also selling a poster for the show. He's been doing stuff for a while, and is now working with Mike from Freakshow. Check out Freakshows new CD at www.freakshowband.com. The 'official' Crowns merch booth also had a poster for the show, not silkscreened like Pete and Uncle Pete's, but a glossy of a hair gel can. Check it out at www.amazingcrowns.com. This show has generated more posters than any other in Providence history as far as I can tell.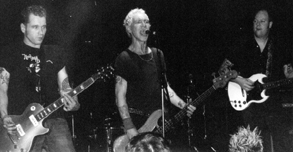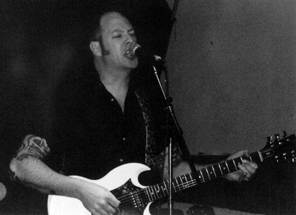 The Worried were up next. I love these guys. They have a song, "Tune You Out," that should rightly be ruling the airwaves. I head them do it a while back at another show and bought the EP right away. They've been playing around, and opened for Iggy a month or so ago. Dennis the guitar player and sometimes singer is doing stuff with Jason in his post- Crowns incarnation, so I'm not sure what the plan for The Worried is. Catch them if you can. Sorry, no info on a site, or email address. They did "Tune You Out," early in the set and it rocked the shit.
The Crowns' site says that they did like 37 songs for their final set. I didn't manage to keep a complete list by any means, but I can back up that they played for two hours and did a couple of encores.
My list seems to say that "Do the Devil" was their last song, but I can't be sure. I just had to get into the big pit of people and enjoy the energy while I could.
For sure the band was hot. The drummer from The Worried sat in, but everything was still tight. Jason said at one point that they would put on another "Providence Payback," but I don't know if the Crowns will get together to play it as well.
Every Crowns show seemed to have an energetic pit full of kids singing along and dancing and for the final show the pit was pretty huge and there was much love being shown. The floor was slippery as hell from all the beer on it, or from a leaky AC, again not sure, but when somebody went down there seemed to always be somebody catching them.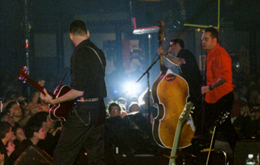 After it was all over there was an after party. I have to admit that I didn't go, although I was tempted, only to say thanks to the guys in the band for all the fun. Instead I went home with my ears ringing and managed to get to bed by 3am. I read that the Crowns might post the show in either video or MP3 format, so watch their site for it. It was a great time.