The 2001 Gravity Games, Featuring the Mighty Mighty Bosstones and the Riddlin' Kids, Providence, RI, September 7, 2001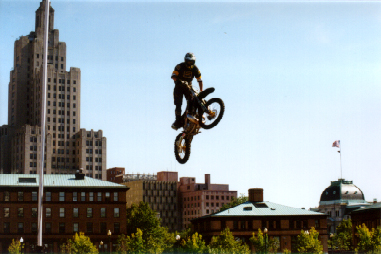 I love it when the Gravity Games come to Providence. It fucks up traffic but at least the streets have been repainted with lane lines so you can race other drivers like a nut. They turn downcity into some huge playground that you really can't play on, but you can watch the other kids get hurt in some pretty nasty ways. Plus, the concerts are free.
I took a whole day off from work to go check out the Games since NBC was willing to give me a photo pass for the concerts. It was a lovely sunny day and things were looking good. I arrived and not only got my pass, but also a big bag of free swag. You gotta love free shit- I do.
I got two more baseball hats, some magazines, and a bunch of other stuff like soap and key chains. The best item was the "Media Guide" for folks like me- its full of maps and facts like, " Irish Spring Aloe is a new product from Colgate-Palmolive Company. It is the first deodorant soap with aloe that is specifically formulated for men."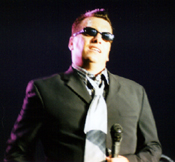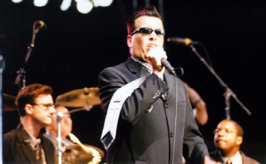 Anyway, it was nice and sunny Friday afternoon in Providence. I watched a bunch of events like the skateboard dudes in the vert, and the BMX street course. There weren't any "Finals" going on so the pressure wasn't on anybody except to qualify.
All the athletes seemed to be having a good time, and they were nice to the kids that showed. I saw all sorts of them giving autographs to kids and giving the little skate dudes props for their decks and shit.
I'm sorry I can't give you any Tony Hawk sightings or anything. I didn't get to see the 900, or whatever. My only brush with greatness was when I was watching the Motocross.
Some guy came up to the girl next to me and asked for an autograph. After a few minutes and me having to admit I didn't know who she was, I realized she was Gabby from Mtv. The volleyball star. She was tall as hell and very nice looking. I don't know why she was there, but she talked to me. I have now spoken directly to an Mtv vee-jay so I'm down to 6 things to do before I die.
I got up to the concert early to see what was going to go on. I soon found out that indeed I could not take pictures from any kind of special position. My pass was worthless.
There were all these boom guys and cameras to deal with and just no more green stickers to go around. I was no better than any of the other people who came in for free, except I had carried a camera around all day. Then I remembered the swag bag and I let it go. I had a big bag of free shit. Nobody else that wasn't somebody got one, except me. I'm special.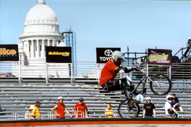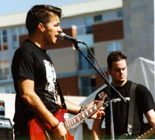 I decided that the gauntlet was down. I marched out of the site and went and bought a pint a few short blocks away. I took that pint back in, flashing my pass like I was somebody to the security guard that couldn't have cared less.
I drank that pint and danced around to the Bosstones and the Riddlin' Kids. I wasn't angry, I was trying to get on t.v. like everybody else. The Bosstones did "Simmer Down" which I really love so it was worth it. Plus, Irish Spring Aloe doesn't chafe my skin like other soaps.