Woodstock: Nudity Warning
Thurday, July 22, 1999
We left for Woodstock from RI in the early am. By noon we were in Pattersonville, NY, at Bob's Big Boy for lunch. We're 150 miles from Woodstock and everyone is already wearing "Welcome to Woodstock 99" t-shirts and selling t-shirts and baseball hats. Our waiter said we're only the second Woodstock table he's waited on today, but he likes his new tye-dyed uniform.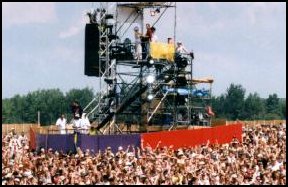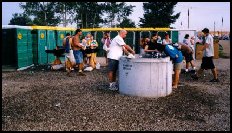 Campground, Day 1
We've seen 4 or 5 cops and somebody already pulled over. There are cops everywhere on the highway. In the parking lot of every single rest area McStretchy goes running around looking for metamphetamines and is pissed we won't let him bring his AK-47 with him.
We picked up our passes at the Turning Stone Casino Ranch at 2:00pm. McStretchy splits into the big room to gamble and we lose him for hours. He finally scores some methamphetamines off Willy Nelson whose playing one of the poker tables.
I only have a media compound access pass, which means pretty much I can get to the woodstock press conferences that Michael Lang and his people give every morning at 10:30. I can also get in and out of the site free. We parked in the Media parking lot and then had to walk 4 miles, all the way around the perimeter of the fucking fence at 900 degrees. We sweat our asses off, nobody would give us a ride and nobody would cut us a break and let us in.
By 5:45, we're in, we do a lap of the place in the sweltering heat, and we set up our shit and go for a beer. We're camped next to some dudes from Connecticut that look like they have way too much LSD. We had beers and dinner (hotdogs are $3, beers are $5.) We go back to the tent and I get my shit together and I tried to call in my report but the phone line was 2.5 hours, at least.
George Clinton's birthday was a surprise last night; he turned 49. He played on the Emerging Artist stage, which is in an airplane hangar (not one of the big stages). It was huge, but nonetheless is not the big stage he will play on this weekend. Opening up for him was Bernie Wural and the Wu Warriors. They did "Burning Down The House" and some other stuff, but people weren't really impressed because everbody was waiting for George Clinton. George came out and did "Tear The Roof Off The Sucker" "Up for the Down Stroke" and tons of other hits, and just rocked the place crazy.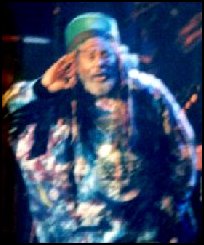 George Clinton
On the small west stage, G Love and Special Sauce played last night and then String Cheese Incident played; music has started already! There weren't too many people hanging around there but you can hear the music halfway across the camping area. The campground is a complete joke. They're not searching people at the door like they said they were. Most of the people who around us have gotten in bongs and full bottles of liquor. I walked in with a Liter 75 of alcohol. There's a low-roar mumble constantly echoing through the campground. There are people camped in the dirt. Every single space is taken and was taken by yesterday. More and more people are streaming into this place. There looked like 100,000 people were already here on Thursday, but it's hard to tell. The fields are so big and there's literally a mile between the two stages, which kind of throws you off.
At 1:15am, McStretchy brings back some native Rome, NY chick and demands I use my press pass to get a keg of Budweiser. His drunk friend keeps saying, "Fuck" every word. She's from "Rome fucking, NY" and she's a "Fucking waitress" who makes "fucking mad fucking money." We finnaly all got so freaked out by here that me and and the dudes from Connecticut all pretended we were going to bed and got in our tents until she went the fuck away so we could smoke a joint and not worry about it.
Every so often, throughout the site, there's a roar that goes up, like the wave. People just start yelling and screaming. When we first heard it, in the beer garden, we downed our beers and ran to the gates because we thought somebody had breached them. That wasn't true. Then we decided that because of the nice purple-and-orange sunset; people were doing some sort of grateful dead-hippy thing yelling at the sun as it went down. But then it just kept happening. I'm thinking now it's like a welcome wave. At 2:00am, people were still doing it as they came in and others just layed in their tents and screamed along with it.
Rob got trashed last night. I had a couple of beers and a little Southern Comfort. We haven't seen any hard-core drugs around, but most of the people around us seemed to have brought a decent supply of LSD with them.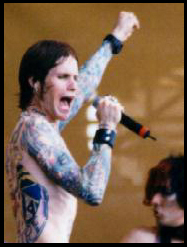 Buck Cherry
Friday, July 23, 1999 8:00am
The security people did set up this morning. They're now searching you before you go in and out of the site. I don't know why but I think they were going to originally and just slacked yesterday. We have no idea what the weather's going to do and neither does any one else inside the compound. My feet have about four inches of caked on dirt on them and I stink really bad.
Today, James Brown's opening at noon. Korn and Bush are closing it on the main stage. George Clinton is doing his main set tonight to close off the west stage. Buck Cherry and Insane Clown Possy are also playing the small stage. Sheryl Crow, DMX, Offspring, Live, Jamariqoi, and Sugar Ray are playing the big stage. The line-up is actually James Brown, Sugar Ray, Jamariquoi, Live, Sheryl Crow, DMX, Offspring, Korn, Bush. There are a lot of Metalheads around. I haven't seen anyone from RI. It looks like it's going to be 90-something today. I'll try to check around 4:30 after the Mickey Hart press conference.
Friday, July 23, 1999 5:00pm
At 10:30, we went to the press conference where they showed us video highlights pay-per-view's going to be showing in the press tent all day. The major announcement was that Sugar Ray has a viral infection and has been replaced by G Love and Special Sauce. This morning there were 150,000 people, they're expecting over 220, 000 by the end of today. According to John Scher the wall has held up; there have been no security breaches. He told a story of some kid who walked by him, looked at the wall like he was going to jump it and then walked away shaking his head. According to the police, traffic is fine. Mickey Hart's press conference was cancelled.


John Scher


The Monk


The Chief
James Brown was the opening act. Before James Brown, Monks came out and did a prayer to bless the site. They were followed by an Indian Tribal chief came out and gave a blessing as well. The Indian Chief was greeted by the audience doing the Atlanta Braves tomahawk thing. I thought it was rather disrespectful. Pockets of tomahawks persisted through the Monk's performance. My photo pass is shit and I was kicked out of the pit moments before James Brown came on. Basically I can't get anywhere to take pictures so I have to view this adventure as a vacation. James Brown didn't come out right away. His band did 4 or 5 songs before he joined them, including Janis Joplin's "Mercedes Benz" which turned into a crowd sing-along. When James finally came out he was wearing purple, his hair was, of course, perfect and he opened with "Get Up Off Of That Thing."
James also did some great dancing on stage and the crowd (many who have probably never seen James live) responded really well to it. He added some excellent flair and busted out a highly energized version of "Living In America" much to the crowd's delight. James' guitar player did an impressive "Star Spangled Banner" that rolled seemlessly into "Voodoo Child." The rousing "Sex Machine" closed the show.
At noon it's nearly 90 degrees and there are tons of sweaty people crowded into any bit of shade they can find. Other independant press people seem to be getting screwed as well, so it's not just me. I went to the main field for G. Love and Special Sauce. I spent most of the time in the water areas trying to keep my body cool and wet and my camera cool and dry. I got up on top of a Porta-Potty near one of the water areas to take some pictures of people. A couple of foreign dudes got up there as well and one of them punched his leg through the roof of the potty. He wasn't injured, but it was amusing. No one else tried to get that height advantage again. I guess it pays to be as light as I am.
I went back to the tent. Rob hadn't moved because he was too hot. He didn't even want to venture out. We tried to rig a tarp to create some shade. It works only moderately well. There's no rain or clouds and everything is open space or hot tarmac. People are completely sunburned and sweaty.
I went back to the main stage for Jamariqui. The lead singer was wearing a funky groovy headdress kind of thing. (It wasn't disrespectful to Indians, in case you're wondering.) They did a flute number and then a really cool version of the Rolling Stone's "Miss You." There are at least 100 topless girls in the audience sitting on guys' shoulders to attract Jamariqui. The lead singer kept talking about it because chicks were shaking their tits and pinching their nipple rings constantly. Live also put on a good loud show, but water requirements cut my viewing short.
The bouncers are pretty nice to the pit people from what I've seen so far. Crowd surfers just get pulled out; they don't get yelled at or anything. Mostly, security is kept busy pulling out people who are too hot to take care of themselves.
The water in the campgrounds is almost non-existent. To get your jug filled, you have to wait in line, and put your finger over the end of an open pipe to get a little trickle. There are huge lines. The Woodstock people expressed concern at the 4:30 press conference, since some people are charging $4 for water.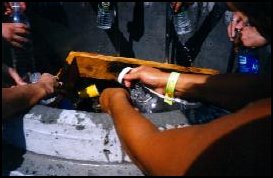 Trickling Fountain
The other problem is a lot of the fountains are broken or damaged. Water pressure is seriously poor. There's good free water at the press tent, so I stay close when I can. A few hundred people have been treated for heat exhaustion. The event is not sold out and Ticketmaster is going to begin selling tickets at the door. ($120 for Saturday & Sunday.)
Tonight we'll see Offspring, Korn and Bush. George Clinton will be playing with at least 30 people including Humpty Hump, Peanut Johnson, Sir Nose McMurry, Babbling Kabbabby, BlackBird, Kid Funkadelic, Dr. Funkinstein. I still haven't seen an Ecstasy around. The rumor that a guy was carrying around with an infected needle is untrue as is the rumor of two rapes occurring last night. There will be two weddings today and a baby is expected to be born.
Saturday, July 24, 1999 9:00am
Yesterday afternoon, I hit the 4:00pm press conference. There are over 200,000 people here and I'm happy to report water is flowing better (although the lines are still long.) I went to the Hard Rock/VIP area where the food is a little cheaper than everywhere else. ($2.50 instead of $3 for a Coke.) I watched the pay-per-view, but it seemed stupid to be watching tv coverage when we can see everything live.
Rob and I checked out Offspring and DMX last night. We listened to DMX from the beer garden because it promised safety from the mud people who have emerged again and begun to make their mark. They've taken over two sections of Porta-Pottys up by the front east stage. All the water and all the mud in front of the pottys offer plenty of ammo for attack. Anyone stupid enough to walk through gets tackled or assaulted by mud. Some of the mud people wait in groups outside occupied potties and assault its occupant as he emerges. They also rule a part of the pit in front of the stage.
There was a huge bottle fight during Offspring. Thousands of water bottles sailed to the stage. We left Offspring early to see George Clinton, who played for three hours with the huge group described earlier. Uncle George and his friends never fail to please.
It looks like it's going to be very hot today with rain expected later. We're expecting interminitent showers throughout the rest of the festival. Today we're looking forward to Ice Cube, Los Lobos, Limp Bisquit, Rage Against the Machine. We'll check out Mickey Hart and Metallica also. I'm most excited for Rage Against The Machine. I expect a huge crazy pit of people going wild.
Saturday, July 24, 1999 11:00 pm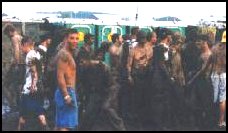 Not Quite Clean Any Longer
I went to this morning's press conference. Things are going really smoothly. The press up here is kind of stupid and goofy, in that they're trying to find anything to make an issue of, so they keep pumping the police and John Scher for exact statistics on how many people have overdosed, how many people are hurt, why haven't they arrested more people for drugs, and all kinds of other nitpicky crap. Afterwards I went up to John Scher and said "Dude don't worry about it. Things are fine. You might want to check the water pressure in the campgrounds." He said, "Cool, have a great day," and "Thank you very much."
I went to the Tragically Hip; they were first band on the main stage today. They were tons of Canadian flags at the front of the mosh pit. They did a great set that lasted about an hour. The mudpit at the east stage porta-potties forced a porta-potty-closing for about half of today, but it didn't really affect anything. Kid Rock played after the Tragically Hip, and he kicked ass. I think there was an injury that might have been bad there; they took a girl out in a neckbrace, but that's what they're doing with everyone so it may not have been that serious.
After Kid Rock, I went over to the west stage and checked out Bruce Hornsby and Wavy Gravy By the way, Bob Weir was married today. Apparently, for all those who want to know, it was a woman who Bob married. Wavy Gravy was at the wedding, as was Mickey Hart. I think later in the afternoon there may have been some sort of Grateful Dead reunion. I heard "Not Fade Away" from across the field while I was waiting for Rage Against The Machine and since Planet Drum was scheduled, it's possible, but I can't confirm.

I went to Everclear. They were great because they invited a couple hundred people up on stage and did a whole bunch of songs.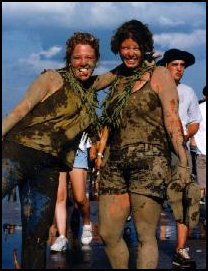 Mud Girls
Next was Ice Cube; people thought it was going to be Collective Soul because that's what it said in the program, but according to the press thing it was Ice Cube. All right! He rocked the place out. He did two NWA songs, including the awesome "Fuck The Police."
Limp Bisquit played the main field. People crammed in since they're like the band of the moment and they really rocked it hard. During "Faith," it looked like Durst was crowd-surfing on a piece of plywood, but I was so far away the security may have been just holding him up. The field is completely torn up. There are two huge mud pits and it reeks like piss all over because the sewage is leaking down all over the place. There were a lot of injuries and afterwards they had to break for like 45 minutes to clean up and set up for Rage. At one point someone came out on stage and asked that people to make room for the medical people and refrain from bumping and crowding the side towers because that's where they were storing the most seriously injured people.
10:50pm: Right now over the loudspeaker I'm hearing we're getting a severe weather warning. Severe wind and lightning is expected. Very quick storms should be passing through in the next hour. People shouldn't worry. This place is completely grounded. Electrical Engineers are here and they have emergency contingency plans to make sure there are no problems with the stages or towers that are holding the speakers. They all have signs telling people they are lightening hazards and to keep back in the event of a storm. More on the rain tomorrow morning.
Rage Against The Machine played all their hits, "People of Sun," "Know Your Enemy," you name it, they did it. They closed with "Killing In The Name Of." A fantastic spectacle it was to see 200,000 people jumping up and down with their middle finger up in the air screaming, "Fuck you, I won't do what you tell me." At the end Zach grabbed the american flag draped on the speaker and lit it on fire.
I'm due to deliver some drink mixers, plus I gotta go to the Chemical Brothers. Rob needs more Winstons.
From what I hear, because I haven't seen him, is that McStretchy, at this point, has taken over. He's some sort of like warlord or something; he has his own camping area that's almost like its own city and they have like their own commerce in there. I guess he started it all with his methamphetamines. He sold some of that, made some money, and bought some other stuff, and sold some of that, and made more money. Now he's like filthy rich and he's dealing in hard narcotics. He has a bar and he also has a gambling area because he was inspired by the casino that we had to go to to pick up our passes. McStretchy has about 8 or 9 employees at this point and they're running all kinds of stuff in and out of the gates because security's so lax. In fact, he has one of the most popular spots in the tenting area.
Sunday, July 25, 1999 4:00pm
At this morning's press conference the media focused on the craziness of the Limp Bisquit crowd, complaining that there weren't enough safety measures in place and that no one did anything to calm the crowd down.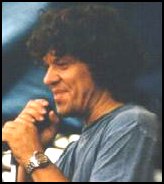 Woodstock Legend
Michael Lang
Some girl from MTV showed up and freaked out on John Scher. She had problems because so many bottles were flying around the MTV towers weren't safe. She also complained lots of kids were being hurt. Schear dismissed her questions, asserting she was "editorializing." The PA didn't work for Fred Durst so he couldn't calm the crowd down. This happened because the plywood Durst was surfing on actually came from one of the electrical transformers that had been torn down by the crowd.
The bare transformer could have electrocuted anybody who got near it. So they pulled the power on that. They pulled it for so long that Rage Against The Machine did not play with good lights. That was not by choice, it was because of downed transformer. The media jumped all over it. MTV freaked out about it, Much Music freaked out about it, ABC News freaked out about it, everybody was screaming about kids that were hurt with bleeding heads. In reality there were 200,000 people in the field last night, even if they treated a thousand of them, that's minimal. I really feel that those kids know what they're doing and that they're in there for a reason. We had a great time. If the media reports are that there was major shit going on and it was very dangerous, I don't think that's true at all.
I talked to an EMT in the medical center who said that most of the people he's seen who are overdoses, which amount to 10 to 20 a day in his tent, are not people freaking out from bad drugs but instead people who have eaten LSD and sat in the sun for too long and need to drink a couple of Gatorades. They're trying not to put IVs into the patients because they tend to focus on the IV dripping into their arm and it grosses them out. So they give them three or four gatorades, a couple of cigarettes and send them back on their way if they can tell them what colors the flags are on the tents. (Because the tent areas have different flags flying very high, so you can tell if you're in the yellow area or the green area or the purple area.)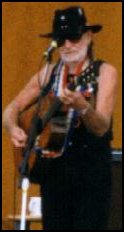 Willie Nelson
He said he hadn't seen anyone that was tripping so hard they didn't know their name or who their friends were, or where they could meet their friends.

There is a Family Find place that is being utilized by most people. ABC News may being running a story complaining about a girl who needed staples in the head during Limp Bisquit but couldn't contact her friends because the PA was down. John Scher says "Use the Family Facilities" and that's what should be done because it has been working. I met two people from Warwick, RI who lost each other and found each other, and a girl from Narragansett, RI who found her mother that way.
I went to Willy Nelson after the press conference. He did "Crazy" and a great version of "Amazing Grace" with a guest singer. We cut back across the field to see Mike Ness. He did a couple of Johnny Cash songs like "Ring of Fire" and a bunch of other country tunes. Really good.
When we returned to the campsite we got the really big news and that is that the wall is down. At least 200 yards of the fence bordering the parking lot near the west gate. It has been completely pushed over by fans. According to the guys around our campsite, all of a sudden this morning everyone just got together and started pounding on the wall until it started coming down in pieces. A large piece of chain link fencing got snagged on one of the waste disposal trucks they use to clean out the porta-potties, which tore a piece of the wall wholesale. Panels aren't just kicked out, it's completely tipped over.
Right now Rusted Root is on stage doing the hippy-drippy thing and there's a big fat cloud heading our way. It looks like we might get a little rain shower. So far it's been a beautiful day. Everything's great. The kids waited until today to breach the fence. I think it's fine. I think that John Schear and everybody have done an amazing job keeping everything under control and keeping a safe environment. Nothing has gone wrong.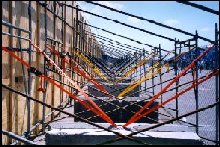 The Fence
The last time we saw Rev. McStretchy this morning he had about 9 grand in his pocket. He's cashed out all his employees since it's the last day. His economy fell when the fence fell. He's jonesing for esctasy at the main stage and hoping the drum circle will start following him around.
A lot of kids have turned over metal drums and along with the hippies who brought their own, have formed a drum circle that's been going since last night at least. They might have a drumming record in the works. We're going to split after Chili Peppers. We are not staying for the last band even though we don't know who it is. It's a Jimmy Hendrix tribute. It may be a super-star-all-star-jam; I've heard rumors of the Rolling Stones and The Who and all these other people. But to be honest I don't think it's going to be any of that. It'll probably be a movie or some firworks effect. Which reminds me, at about 1:30 last night, it there was an unbelievable 45-minute 20 billion dollar fireworks show while Fat Boy Slim just cranked it up. It was fantastic, really great to stand in that field and watch the fireworks drift down.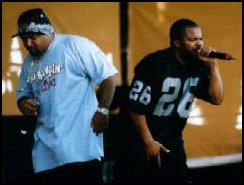 Ice Cube
Everyone around me has friends to keep an eye on them no matter how many drugs they've eated or or how much they've drank. The major concern is of course to just keep drinking water. It's hot as fuck and a lot of people are hanging out in campgrounds or in any shade, drinking water, and listening to music peripherally instead of on the field where it's very hot. There's music everywhere.
We haven't seen any major surprises. The Grateful Dead didn't reunite. Mickey Hart just did a couple of Dead songs. We're all starting to anticipate the crappy drive after the Chili Peppers. I also gotta crash Rob and McStretchy through the press exit so we don't have to walk the four miles back. We'll ask nicely first, but if that fails, there are just two old ladies checking badges, a fifty yard dash should take care of 'em.
There's already a steady stream of people who have to get back for work who are leaving now. I'll call from the road.
We went up to the East Main Stage to see Jewel and Creed. It was hot as hell and Elvis Costello was trying his best to get people to sing along. We watched him do "Allison" and "Pump it Up," but it was really hot so we sat in the shade off to she side or the stage.
| | | |
| --- | --- | --- |
| Good Spot | | As Jewel came out a storm made its way through. The sky got dark and bolt lightning was flashing around in the distance. None of the lightning was very close, but we moved into the crowd and away from a light tower. I'm not much of a Jewel fan but her set was one of the really amazing moments of the whole festival. |
As a light rain fell, she sang "Foolish Games." The rain fell harder as she went for the high notes rquired by the "its tearing me apart" vocals. She stood right on the edge of the stage with her hair blowing back and her arms out, probably praying lightning woun't strike. We ate it up. When she did "Who will Save Your Soul," she started it with a bass intro and hip shake dance. It was slow, sultry, and inspiring. She closed with her song about angels, mostly an amazing vocal workout, then a brief yodel. The crowd really had a great time, and the rain only lasted like three minutes so it was just enough to cool you off without making the ground mud again.
We cruised back for Creed because there were lots of people arriving. People were pumped up for Creed and the Red Hots to close the festival. The wall had also been blown out around the main stage. I don't know how much of the four mile fence was smashed down, but the big main stage area was totally open for a few hundred yards.
We decided to go get something to eat before things got started and as returned we noticed people were starting fires in garbage cans. It was robably about 7:00, Jewel was finished and Creed hadn't taken the stage. We didn't like the looks of things. Saturday night after the Limp/ Rage/ Metallica tear down people were yelling "Tommorrow the towers" and shit like that. It went on all night. I didn't believe it would happen, but when we noticed that lots of cans were lit and nobody seemed to care, we got worried.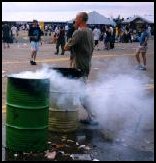 The beginning of the end
On the last day, vendors dropped prices. Gallons of water were now one dollar instead of twelve. It pissed people off. In the camp grounds, Ace Hardware (I think) had a truck full of gallon jugs with guys selling it cheap. They had stockpiles of the stuff; the truck was full of cases. The sight of all that hoarded water after three days of thirst helped fuel the riot that came.
We decided to get the hell away during Creed. The vibe seemed ugly. Godsmack and Megadeath were supposed to close the West Stage. When we went over there, the garbage cans were buring away and it looked loke some crazy war movie. We talked to the nice Peace Patrol ladies at the VIP door into letting us leave to get to our car. Listening to Westwood One radio on the way home, we heard them burn down the mainstage area during the Red Hot Chilli Peppers. Flea was naked, and after the kids torched a tower and stopped the show, the Peppers did a version of Hendrix's "Let Me Stand Next to Your Fire." I guess that's when it all went wild and the looting ensued, as well as the tipping of more towers, more fires and the torching of the semi-trucks that we had first used as shade, then taken over and climed on to get a better view. There were propane tanks on the trucks and according to reports they did blow.
I've been home all day watching CNN and MTV. MTV is acting like another Kennedy died even though as far as I know that loudmouth was uninjured. From the looks of their reports on 1515, Kurt and the gang split just as the Peppers left the stage. They forgot to report on the many spray-painted tower frames that said "MTV Sux." A similar sign declared, "Corporate Rock Sucks," while still another proclaimed "Peace, Love Capitalism." The quanity of graffiti and variety of colors suggested a concerted effort.
| | |
| --- | --- |
| That Guy's security! | I don't know how to feel about what happened. The family feeling in the campground flourished as we all got to know our neighbors. Then resentment grew toward 'the man'. It wasn't the same kids who caused every problem. If you were around when the shit came down you joined in. The wall around our campsite came down because hundreds or thousands of people pounded them with their fists until they fell. After that and another swealtering day there was nothing left to do but tear the roof off the sucker and burn it down. |
On the last day I managed to get all three promoters to autograph my Woodstock 99 poster. The media was all over them again about deaths, overdoses, etc. As I said in the last update, I made sure to tell them that I had a great time and that it was what I expected. The selection of musical styles was diverse and exciting. We'll have a Whatever Special Woodstock '99 issue out in a month with expanded versions of my daily reports. I'll go over all the acts I saw and you'll see that it really was huge.
Seeing Geroge Clinton two days in a row, along with Fatboy slim, Metallica, Jewel, Bush, Willie Nelson, James Brown, DMX, Offspring made for one hell of a great party.And those were just the big acts. Bands like Buck Cherry created great atmosphere as well. This
I felt sorry for the promoters defending themselves on CNN. They offered the PAX candle handout and high energy by way of explanation for the fires. Most of us really had a great time up until it got ugly. "With the millenium coming, this was the last party of the century, you gotta go nuts," some kid on MTV said. I guess they did.
On the way home, McStretchy jumped out of the car when he heard about the riot. We have no idea if he's alive or dead.