Interview with Jason Kendall, An Amazing Crown, January 29, 2000 ~ Met Cafe
Whatever: So how have you been?

Jason: Good how have you been?

W: Good.

W: How's your voice holding out?

J: Good. We were just talking about it. I've been going home every night, not going out and drinking.

W: Where do you live?

J: I live here on Broadway now.

W: You guys have a new record deal, who is it with?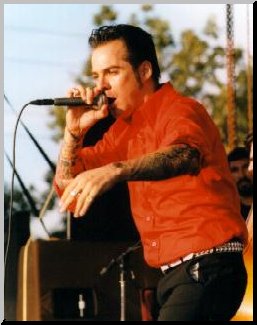 J: Time Bomb Records.
W: When are they going to put out your next CD?
J: Well, it was August, but as of Thursday, from them coming to the show here at the Met, they're moving it up to June 6th.
W: Excellent!
J: It's done. We'll have the live album out in March on Monolyth and the studio album out on Time Bomb in June.
W: Do you have a title for the live CD?
J: No, not yet.
W: How about for the studio?
J: Yeah, its gonna be "Royal." The artwork's already done too.
W: Are there any guests on it? I think I read that Dennis Kelly plays on a song?
J: Dennis Kelly. There are also some friends of ours from town here. One guy plays organ, but other than that, nah no real guests.
W: Any kind of new sounds.
J: There's a lot. It's out regular punk rockabilly stuff. Then some traditional rockabilly, then some traditional punk rock stuff. Then there is a country song, with some lap steel. And then there's like an almost 60's garage song, called "Fix It."
W: I hear there's also some tropical, on "Flipping Coins," I think?
J: "Flipping Coins" has more of a country, "Blue Light" has more of a tropical feel to it.
W: Has it been a bummer having to wait until it comes out?
J: Oh yeah. Yeah.
W: Have you been going crazy?
J: We've been going crazy. Its ridiculous, we don't want to loose any momentum that we've built up the last couple years.
W: Who was it who just printed a story about you?
J: Rollingstone.com?
W: Maybe, I was surfing the other day to see what was up with you guys and I saw it. I think they had the studio album title as "Still Royal to the Loyal."
J: That was rollingstone.com, from a while ago. That's when we thought the thing was going to come out last year. Like immediately, but you know things happen. It's a hard time for bands right now, its really a landlord's market, ya know?
W: It really is, I've been corresponding with lots of people like Nashville Pussy who got dropped, and things are tough.
J: Nashville Pussy doesn't have a deal anymore?
W: Yeah, the record's in the can and they're doing the same thing as you guys were looking for a deal. I know NP is talking to a bunch of labels, they should get signed soon.
J: I hope they get signed soon. (Nashville Pussy has since signed with TVT.)
W: Yeah, well you guys have a month off do you have any plans?
J: Yeah, we have a couple shows in February, and we got some more things to do. We're going to write a couple more songs. We wrote some new songs for this live one too.
W: You did?
J: Yup, they won't be on the studio album, but some will be on the live album. We'll probably tour again. Towards the end of February we'll head back out.
W: Are you guys going to hit Europe or anywhere foreign this year?
J: I certainly hope so. I'd like to get back to Australia.
W: Anywhere that you'd like to play that you haven't played?
J: Japan.
W: Japan has a decent rockabilly thing going I think.
J: Yeah, I just want to go.
W: Have you done Canada?
J: Yeah we did Canada this year for a month and a half.
W: How did you like Canada?
J: It was cold. (laugh) Uh, it was interesting. The cities are really cool. We went really north into the territories, so sometimes we were literally playing like some blues bar, country bar, with the ya know, chicken wire around. Ya know we went to Fort McMurray, in Alberta which is way up near Alaska.
W: Oh, that sounds cold.
J: Cold as crazy, but it was good, real good.
W: I also heard that you worked with Steven Tyler's vocal coach last year.
J: Oh, yeah, Mark Baxter, he's great.
W: Has he helped you or changed your style at all?
J: I huge amount, although I think he's helped me a lot more in the studio, ya know what I mean? Where as live I revert back to the old grunt, and punk rock yelling days. I try not to all these three days, since we're recording, but its hard not to. But he helped me a lot, an awful lot. He taught me a lot of things. That's why last year when we did these three days I couldn't talk right now. I went up there squeaking.
W: What did he teach you, to sing from the gut more, or the diaphragm?
J: Yeah, he taught me a lot of things. He taught me to relax, and he taught me what to stay away from- alcohol, caffeine, and sugar. Get lots of sleep. Some good warm up excersizes. I'm not the best student and I haven't really been practicing it much. He's brilliant though, he taught me things I could never imagine.
W: Are you going to explore some different singing styles next time you go into the studio?
J: Who knows? I have a deeper voice, and I've always been a fan of Iggy Pop and David Johansen and things like that, so I would like to do something like that. David Johansen had a way of crooning sorta, and I'd like to do that.
W: A little crooning would be cool.
J: There are a couple of songs on the new album that kinda touch on that and hopefully I can learn some more about it.
W: Do you guys play any part in your website?
J: Oh yeah, a pretty big part actually. (laughs) You mean as far as directing what goes on there, we actually do.
W: Yeah, I surf the web a lot and your site, especially your message board is always full of updates and tour info. You guys are like the only band that puts up photos of each night.
J: Yeah, where did Josh go? Josh is responsible for that stuff. A lot of the reason our website is so good is Josh. Now Grant, our tour manager, has a digital camera, so they've been playing around with that.
W: I saw him shooting photos the other day.
J: He's taking a lot of cool photos but a lot of it has to do with Josh. Ya know constantly sending in photos to our website, and constantly putting them up for each show. It's been a great help. Its also a great way to get in touch with people and stuff, because people who go to our shows and stuff will see the photos and write on the message board, "Hey that way me," and it makes it so much easier to get across to an audience.
W: Yeah, it looks great.
J: I'm a bit of a nebbish, ya know. I always calling up Alley, who does our website and asking 'How about this,' or 'What about that,' we're pretty much hands on with the thing, the band does, with the site.
W: Are you thinking about doing any MP3's, or audio stuff like that?
J: We should. We've been thinking about it.
Some other guy answers: I recorded all three nights, and they have the live thing out soon, so we have some good sounding stuff.
W: I like what you guys were doing with the countdown to the Providence Payback (each day a different photo was posted on the frontpage to count down the 10 days until the Payback).
J: That was fun! It was all of us, that was really fun.
W: It makes the site fun.
J: Yeah, it's interactive and fun, the way it should be. It is hard to update a site all the time. I thing a lot of bands make up a site and think they're all done. Man, we're constantly getting new people because of that website, I'm sure of it, I know we are. I wish from day one we had a counter, because out site gets a workout.
W: I think there are ways of tracking stuff pretty well now, but I'm not sure my wife handles all the stuff for the site. I'm kind of a neophyte as well I just take pictures and stuff.
J: I'm interested in it all though. When we go out on tour Grant has a PowerBook and I get to do the updates, which I'm totally into. It's great, when I have the time to do them. And I think that's another way of coming across to your fans.
W: well that's really all I have. I just wanted to make sure everybody knew there was gonna be a live CD, then a studio one early this summer. Thanks.
J: Thank- you. Take care.