The 4th Annual Providence Payback with The Amazing Crowns January 27th-29th 2000 @ The Met Cafe
Special Guests each Night. Recorded for a live release.

Finally. Its been a while since I've ventured out so when the Payback dates were announced I made sure to get my shit together and go.

Amazing Crowns
This year's line up featured Vigilantes, Pressure Cooker, Raging Teens and the Double Nuthins on Thursday; Damn Personals, Sinners Club, Belmont Playboys, and Showcase Showdown on Friday; and Money Shots, Burbonaires and Fabulous Itchies and Saturday. L.E.S. Stiches were supposes to play on Saturday, but their drummer got mugged and they couldn't make it. Of course the Amazing Crowns capped off each night with a set of their furious punkabilly. They recorded all three nights to release next month on Boston's Monolyth label.

Vigilantes
The Crowns also have a new deal with Time Bomb who decided after seeing them Thursday and Friday to bump their next CD "Royal" to a June release. I managed to make it to the Thursday and Saturday night shows and had a blast.

Thursday night I arrived around 7:00 in time to see the Crowns sound check "Sin City." I haven't seen them in a while, but it didn't seem like much has changed. All the guys looked good and hung out after sound check saying hello to friends and catching up with everybody.
While things were getting set up I met some of the guys from Pressure Cooker who were getting their set lists written out. To pass time we made the "Regis Rebus" I'll scan it-see if you can figure it out. The drawing isn't the best, but its pretty good for a Thursday night at the Met. Poster Punk Pete (Pete Cardoso) was also hanging out. He did this year's poster and is doing pretty good. He's the only person doing silkscreen posters in Providence and his stuff is great, so check him out.
Vigilantes got things going. They do some good traditional kinda punk. There were only 30-40 people there, but it was a good mix of rockers, punks, and hardcore youth so Vigilantes got a decent response. They have a new CD out February 7th on G.M.M. Records. Contact them @ www.gmmrecords.com.
| | | |
| --- | --- | --- |
| All nine members of Pressure Cooker crammed up on the little stage and let loose with some awesome old school ska. It was rock-steady throughout and really good. The band left very little space between songs and just kept cranking out the skanking music. I'm not sure if these folks are Boston or Providence based, but they did do a cool local song about "walking down Hope Street looking for my daily bread." | | Pressure Cooker |
| | | | |
| --- | --- | --- | --- |
| Raging Teens | Raging Teens followed Pressure Cooker. I was psyched to see them since they do straight up rockabilly (no punk) and feature an awesome lead guitar player, Amy. The stand up bass and drums were nice and tight as well. The lead singer Kevin is Mary Lou Lord's husband and the band backs her up on a split on Kill Rock Stars. They also have a CD, but I don't know what its called | | Raging Teens |
Kevin has more of a James Dean look than Elvis and the band do some nice slow songs with some country tinges. The lead guitar was outstanding- she really has some good moves. I don't know how you can contact them so keep an eye out. I think they have a gig Feb 19th at T.T.'s in Boston.
| | | |
| --- | --- | --- |
| Double Nuthins | | Double Nuthins were up next. Ya gotta love these guys. 4pc straight up punk. Ted Rao fronts them and plays a great lead. They goof around, do some covers and keep it real. I'm not punk enough to know most of the songs they did but they did "Baby I'm O.K.," and "I Like Drugs." They have a new 7" out that |
I didn't get because I spent my $10.00 on beer, but I gave Ted $3.00 and he's gonna send it to me. Its called "Got into a Fight in Special Ed (and the Retard's Winning)." You can contact them at PO Box 28097 Providence, RI 02908
| | | |
| --- | --- | --- |
| I was surprised that the Met wasn't packed to the gills by the time the Amazing Crowns took the stage, but it was only Thursday. There was still plenty of space throughout the club, but it didn't phase the band at all. | | Double Nuthins |
At one point Jason said, "Thursday is for people who want to see good music," which I guess was true.
| | | |
| --- | --- | --- |
| The Crowns' new CD does have a little mix of stuff on it, but it's mostly the same greasy stuff. Their live sound has grown with the addition of JD and he really has taken over as an excellent lead. He's got great finger movement and flys all night. The tag team combo of Jack and Judd on bass and drums is equally as strong, but its Jason's non-stop jumping, shaking, and fretting about that can't be ignored. | | Amazing Crowns |

Amazing Crowns

They peppered new songs that we've learned while waiting the whole of 1999 for a release throughout their set. I really like "Greasy" and it seems logical that it will be their first hit single. (Call your local radio station now.)

Their set included: "Shiverin in the Corner," "Losing Streak," "Mr. Fix-it," "Halos and Horns," "Scene of the Crime," "Gretschy," "Fireball Stomp," "Babies Out on Bail," "Out the Door," "Perfect Sin," "Do the Dog," "Greasy," "Sin City," "Trouble and the Valley High," "Blue Light," "1965 GTO," and the now famous "Do the Devil" to cap it off.
I grabbed a copy of the setlist off the stage so I'll scan it for anybody who cares. It was great fun and I managed to get home in time for a 3:00am bedtime. I guess I might have had too much fun since I left work the next day around 10:00 not feeling too well. I rested up Friday night with a good dinner and went back early Saturday to interview Jason.
Saturday Night
It was cold Saturday night. I waited with some band members and other people for an hour outside the Met before a key showed up. Once inside it was nice though. JD's wife and friends were around, as well as Jack's. For soundcheck The Crowns did some new stuff that should be on the live CD due out soon.

Mike from Moneyshots was around.
He developed most of the film from Whatever Issue # 1-3, I think. He works at Modern Primitives now. Poster Punk Pete was around as well and it was kinda crowded before the doors really opened.
| | | |
| --- | --- | --- |
| Moneyshots are a great band. Besides Mike they have Ted Rao from Double Nuthins on guitar, some of the Tossoffs on guitar, and more guitar. They did some awesome guitar punk and metal and got major bonus points for attempting to get the bass player on to one of the other guys shoulders. Mike fell of course, but it got a great reaction. | | |
Mike also managed to nail the drummer with either his bass or some piece of drum equipment, resulting on a nice bleeder that wasn't to big, but spilled some pints. Check out the towel of blood.

Burbonaires


Fabulous Itchies

Boston's The Burbonaires were up next. Stand up bass, Acoustic and wide body guitar and rockabilly straight up. These guys were great. Their singer, Sean Coleman had a good ole deep voice that carried like Jerry Lee it seemed. He did the requisite "Weeeeeeeeeeellll" pretty nice. The lead guitar by Andrew was also excellent. They have a new CD "A Shot of Burbonaires" out on Howlin Records PO Box 391262, Central Station, Cambridge, MA 02139. Check them out. Also www.Burbonaires.com.

Fabulous Itchies played to a packed house. Providence loves these guys and they did a great set.
Dennis Kelly played a great lead and the whole band looked like they were having a blast. I didn't keep track of the songs, I spent my time trying to get to the bathroom and back before the Crowns came on. It was packed as hell, but nobody seemed to mind.

The Crowns came on and capped off their three nights with a great set. They had plenty of shout outs to people like Modern Primitives, Randy in the merch booth (free candy every night), Moneyshots, the Fab. Itchies, Ashley Von Hurter "when they get their shit together and play," Dennis, and of course all the kids who come out for the greasy fun.

They did many favorites, but also a bunch of new stuff like, "Out the Door," " I'm Leaving Now," and an old Boss Fuel song "Taking the Ride." The kids up front as well as the back had a blast. I took many photos and really had fun. They handed out gift bags each night and I got a "Doc Martens book and plenty of stickers in mine.


Amazing Crowns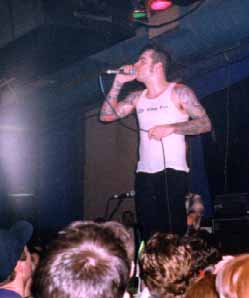 Keep an eye out for the Live CD due out in March. Don't forget, "Royal" comes out in June on Time Bomb Records. The Amazing Crowns will be back out on the road by April and should be in your town sometime soon. Their non-stop tour is totally worth the money and time. Say Hi to them from Providence.
Amazing Crowns