The Donnas with OK Go The Paradise ~ Cambridge, MA, February 8, 2003
Its all how you look at things. You can either go through life crying about how shit never works out, or you can plug through the bad and try to focus on the good.

Case-in-point: Saturday night and the Donnas are in Boston. It's sold out like a mother, but I was smart and got a ticket. I even went so far as to call the band's management to make sure I could get a photo pass. It snowed like hell the day before so I decided to leave early.

As I am getting of Storrow Dr. at Kenmore Sq., my left front tire blows out. Not goes flat, but pops and sends the car spinning. Thanks to my PS2 game reflexes, I manage to get off the road and over to the side. It's not the safest place, but at least it's not in the road. I get out and look at the tire and it's fucked. It's totally torn up and shredded. I don't know what the fuck happened. After a while of looking helpless and stupid, some guy and his girlfriend stop to help me out. We put on the donut and I'm ready to go.

I decide that since I'm already in Boston I might as well make an appearance at the concert. I'm not really in the drinking mood anymore, so I decide I'll go check out the Donnas and just take some photos. The venue is crowded, but not horribly. I get a free ticket with my photo pass so I go outside and give my ticket to some girl without one. I didn't charge her since scalping in Mass. is like a major crime and I figured the karma would do me good for the ride home.

I missed the first band, but arrived just in time for Ok Go. Ok Go are good, but I can't pay attention. There is no barricade up front, so I have to shoot photos from wherever I can manage. I don't feel like pushing my way up front, so I just hang over to the side. The bartender gives me a free soda and things are looking up.

The Donnas take the stage after some wrangling with their new light-up logo banner and side screens. It looks like one of Donna F.'s drawings has been turned into some big screens for the stage. Not bad, but unexplained.

Nick Carter announced the Donnas and disappeared (thankfully). WBCN taped the show and will replay it once: Feb 15 at 8pm. About time they got on the bandwagon. By the way, WBCN, for non-Boston people, is "going back to the rock," which means they played Pearl Jam my whole ride home.

FYI- I do not know if this is part of Clear Channel's plan to tape and release Boston concerts on CD. Rumor has it that CC is planning on using Boston as a test market to sell live CDs right after a concert. Supposedly, they will bring in cd burners so you can walk with show.

The Donnas tore it up. Better every time. This year the crowd was energized and the girls reflected it. Donna A. mentioned that the crows seemed more alive this year. I took some photos from the side, then changed rolls and moved around for the remainder of their set. I tried to be precise and not waste shots or film.

Donna F.'s joke for the evening was, "Why did Michael Jackson quit the cub scouts?" Answer: "Cause he was up to a pack a day."

The Donnas did most of their new CD, with a few old songs thrown in. I stuck it out because the Donnas make me smile and I really love their music. They didn't do my favorite, "Police Blitz" but I didn't mind.

After the show, there were tons of kids lined up to meet the Donnas. Its amazing how many have learned that all ya gotta do is hang and you can meet them.

The manager tried to get a line going, so I decided to leave.

The Donnas

OK Go
Two hours later (60+ miles @ 40mph) I arrived home safely.
The next morning I took my film to CVS to get developed. I went home to read the reviews (only in the Herald) and waited.
CVS called me an hour later to let me know that my film was ruined and stuck in the machine.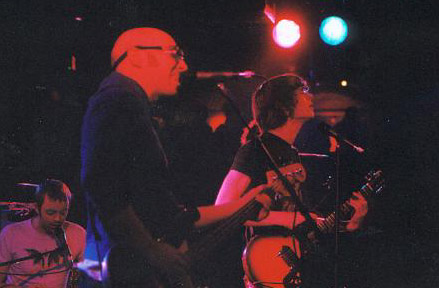 They claim to have salvaged a few shots, but I haven't seen them. (My film is still stuck in the machine.)
So, my car is fucked up, my film is lost and I've got a choice- do I remember this as the show from hell, or do I just forget about it and remember it as the year the Donnas found their stride and played an awesome show? For now I'm going with the latter. At least I'm not dead and I didn't miss the girlz. I figure if WBCN is gonna replay the show I'll soon have the best bootleg possible for my 2003 collection.
Sorry the photos are lame, but those are the breaks. I copied the set list below from the sound booth.
It's On The Rocks
Do U Wanna Hit It
Take Me to The Backseat
You Wanna Get Me High
Hyperactive
Too Bad About Yer Girl
All Messed up
RU Gonna Move It
Dirty Denim
I Don't Care
Midnight Snack
I Didn't Like U Anyway
Not The One
Take It Off
5 O'clock In The Morning
Encore
Who Invited U
Skintite