The Barenaked Ladies
The Strand
Feb. 18, 1997
One of the only reasons I could leave Lizzy Love at home on Valentine's Day was because her favorite band- The Barenaked Ladies was playing a few days later. She only goes for a quality music experience- so trust me when I say that this band is real ly great.
The Ladies have been around for a long time I guess- they put out their first CD "Gordon" like 5 years ago and have gotten rave reviews and tons of awards in their homeland of Canada. Getting big in America has been tough for them, mostly because they don't have any shtick- they're just a bunch of average looking guys who happen to play great music. In America you gotta have videos and a "look" but the Ladies seem to prefer a quieter break. They do get airplay on the Edge, but not much credit.
A Barenaked Ladies show is always a good time- the band jokes around, makes up goofy lyrics about whatever town their in, and basically creates a welcome atmosphere in which to hang out. They share vocals between Ed and Steve. Steve Page has probably th e best pop voice I've ever heard- for some reason I can always go to the bathroom at a BNL concert and still hear him loud and clear. He has good range, and really gets into each song.
So now that I'm done raving about them, the BNL set at the Strand this year was pretty good. They opened with "Hello City" which is nice and loose. They started making fun of Providence pretty early, and even made up a song about drinking coffee and eating cheese on Federal Hill that was actually pretty good.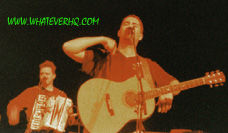 The BNL crowd seems to be growing, there were a few more people this time they played, and it sounded like most of them were able to sing older songs like "Enid" as well as newer ones.
They guys also told a funny story about filming an episode of 90210 to air on March 26th. I guess the dude who announced them couldn't read or something. Anyway they'll get their chance to rock the Peach Pit After Dark soon so keep an eye out.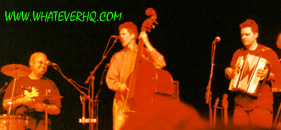 During the encore- the BNL must "If I had a Million Dollars," everybody throws uncooked mac and cheese at the boys- for an added bonus the opening band decided to rush the stage naked to stir things up. Although they don't usually perform in their und erwear the Ladies decided to join the openers and did the last song in their boxers- it was really funny.
I know the name sounds like they might be some crazy Jim Rose sideshow band, but they really are the exact opposite- check out the Barenaked Ladies: your girlfriend will thank you.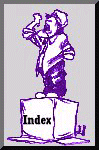 Copyright #169 1995, 1996, 1997
Whatever...The Journal for Good People with Bad Jobs.
All Rights Reserved.