I Laughed..I Cried...I Fudged My Undies
by RED PETERS
I almost bought Adam Sandler's CD a few weeks ago, and now I'm glad I really didn't. Red Peters "I Laughed..I Cried..I Fudged My Undies!" is ten times better than anything I"ve ever heard from anybody.
First of all this isnŐt an average comedy album. Instead it is a faux retrospective of the illustrious Red Peters him self, narrated by Alan Pinchloaf- one of Red's origional back-up singers from the old days.
Pinchloaf goes from Red's breakthrough hit "Blow Me (You Hardly Even Know Me)," all the way to his comeback "You Promised Me The Moon (But I Preferred Uranus)." In between we get samplings from Red of every style. Red does Irish and Italian tunes, as well as a country ballad. He also sings a duet with The New Christy Hamsters, "Wholy Shit it's Christmas!" for a stab at a traditional holiday number.
Personally, I prefer the two crooner tunes, "Blow Me," and "You Promised Me the Moon." Both songs could be played at any wedding and mistaken for Sinatra. Red's voice is perfect, and his inuendo is right on. "Blow Me" is pretty straight forward, and Red really seems to mean what he sings.
Every song on this "retrospective" is worth listening to. As an added bonus, Red released this CD with Karaoke mixes at the end, so you can sing "How's Your Whole.....Family," and "You Promised Me The Moon" in your car or at home. The CD is really g ood enough to merit this. I've been singing along for a few weeks now and I can't seem to stop.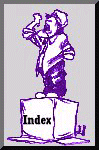 Copyright © 1995-1999
Whatever - The Journal for Good People with Bad Jobs